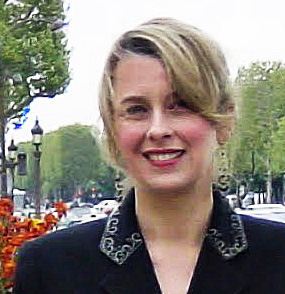 MERYL NIETSCH-COOPERMAN, originally of Massapequa, New York, is an Aesthetic Realism Consultant with There Are Wives. With her colleagues, she teaches the monthly Understanding Marriage! class at the Foundation.
A published author on issues that concern women, Ms. Nietsch-Cooperman has presented papers in public seminars on many women in history and the arts, including the Swiss-born painter and singer Angelica Kauffman; costume designer Edith Head; the American writer and editor Sarah Josepha Hale, the Native American Pocahontas. Among the seminars in which she has taken part are:
"Why Are Women Disappointed, and Do We Ever Want to Be?"
"Do Men & Women Have the Same Question about Strength & Tenderness?"
"The Fight Between Boredom and Awareness in a Woman's Mind"
"The Trouble about Love—Why Is There So Much of It?"
Through her study of Aesthetic Realism, ten years of the eating disorders anorexia and bulimia ended in Ms. Nietsch-Cooperman's life. As a public speaker on this topic, she's given talks at schools and colleges across America, including Columbia University and Princeton University.
A performer with the Aesthetic Realism Theatre Company, she has been a part of the groundbreaking presentation Rock 'n' Roll, the Opposites, & Our Greatest Hopes—A Celebration! With this esteemed company, Ms. Nietsch-Cooperman is proud to have taken part in two events of music and education that present how Eli Siegel and Aesthetic Realism explain the meaning of unions and labor —"Ethics Is a Force!"—Songs about Labor and The Civil War, Unions, & Our Lives!—at union leadership events in Las Vegas, New Orleans, Atlanta, and throughout the tri-state area.
She studied graphic design at Parsons School of Design in New York and art education at Rocky Mountain College in Montana.
Ms. Nietsch-Cooperman is also a corporate events consultant, for which she has traveled internationally and throughout the United States. She is a member of Meeting Professionals International (MPI) and continues her studies at The Event Leadership Institution.
She is married to Aesthetic Realism consultant and actor Bennett Cooperman and lives in New York City. You can visit their joint website.