Aesthetic Realism Consultation of Nancy Huntting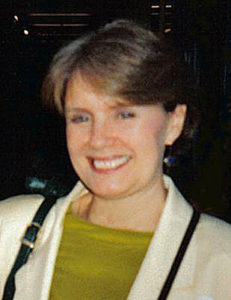 I am very proud to have this, my first Aesthetic Realism consultation, published on the web so that others can see the kind, scientific, truly beautiful education that took place in it!
As a young woman of 27, I began, really, to understand myself through Aesthetic Realism consultations—and to be able to see other men and women much more deeply and accurately, including my parents.
I had a degree in English literature, had been an editorial assistant at Newsweek magazine, then an antique store owner, and was very pained about love. Through consultations, instead of being consumed by doubts about whether a man loved me enough and would continue to, I began to learn what love really was. I was freed to use my mind to see meaning and value in the world as I never had before—including in men.
Also, after years of scorn and fighting with my mother, we had new respect and kindness—could listen to each other, and begin to know each other. This means a very great deal to me. These central changes in my life began in this consultation.
The desire and the ability to understand people different from me, and to understand the world as such, came alive in me in a way it never would have otherwise, through the education I received in consultations.
The questions I was asked show a knowledge of humanity, literature, and art so respectful of the depths, possibilities, hopes all people have. That knowledge is Aesthetic Realism, and I know it is the comprehension women and men are thirsting for today.  —Nancy Huntting
Consultation
Consultants. What would you say you have most against yourself?  Another way of thinking about it is, if you could change something in yourself, what would you like to change?
Huntting. I would like to change an attitude I have that I'm not able to do things.
Consultants. What kind of things?
Huntting. Just learning and doing something that will help me to learn; for instance, going back to school.
Consultants. Have you finished school?
Huntting. Yes. I have a BA.
Consultants.  What was your field?
Huntting. English literature.
Consultants. Do you work?
Huntting. I have an antique store right now.
Consultants. From what you have said so far, do you feel there's some way you would like to be more energetic about things?
Huntting. Yes.
Consultants. What do you think makes you not so energetic?
Huntting. I think part of it is a mental attitude that things sort of overwhelm me.
Consultants. What's the big competition to interest in other things?
Huntting. A sense of insecurity.
Consultants.  Do you think the big competition is interest in oneself?
Huntting. In a way. I feel I have a need, an emotional need for a man. The thing I've been most interested in is my pursuit of my relationship with a man.
Consultants. Is that true of other women?
Huntting. Possibly. I feel I have been sort of desperate about it.
Consultants. Have you achieved this pursuit or are you in process?
Huntting. I think I've achieved it.
Consultants. This means there's a man you are involved with deeply?
Huntting. Yes. His name is Russell Cameron.
Consultants. Have you felt the pursuit was in some way too much?
Huntting. I felt it was too much, it was to the exclusion of everything else.
Consultants. Aesthetic Realism says that every person has an attitude to the world and the only way we can like ourselves is to like how we see the world. What would you say you thought of the world in general?
Huntting. I didn't think of it in general.
Consultants. Is that already an opinion? If we feel something is worth thinking about, we think about it. You felt the world was not too worthy of your deep, constant consideration?
Huntting. I was mostly concerned with myself.
Consultants. What writer has stood out for you?
(NH mentions Thomas Hardy and Jude the Obscure.)
Consultants. What is in common in the novels of Thomas Hardy and what you have already told us about yourself? Is there in Thomas Hardy a very big sense of a person driven by something which they may not immediately see as proportionate? There's a big sense of people affected by love in a way they don't understand.
(NH is silent. There is a tendency to wait a long time before responding.)
Consultants. We know you are nervous, but do you think there's something in you that prefers being in yourself rather than giving out and participation?
Huntting. Yes. I think I'm what's called reserved.
Consultants.  Do you think what you call being reserved has in it an attitude to the world?
Huntting. I think I'm kind of afraid of the world.
To read the next section, click here.
To return to Consultations homepage, click here.