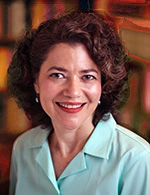 Sally Ross, Aesthetic Realism associate, writes:
Millions of Americans walk around every day, as I did when I was in college, feeling heavy, depressed, stuck—and wondering, "Will I ever get out of this?"
In issue 1759 of The Right of Aesthetic Realism to Be Known is The Philosophy of Depression, a great lecture Eli Siegel gave at Steinway Hall in 1947. He explained the subject of depression in a way that is new in the understanding of mind. Through studying Aesthetic Realism and learning this explanation, I'm very thankful to say, I was never depressed again. Here is how the lecture begins:
Depression obviously means feeling low. And the word low is capable of more than one meaning. When one feels sad, the lines on one's face seem to go down. When one is happy, they seem to go up. Depression, a state of being pressed low, has a superficial meaning and also a very deep one. It is the deep one that I shall talk about principally today.
When we think of feeling low, the next thing is down; the next is within. In the very worst depression, a person is trying like anything to go down, go into himself, have himself, even if it means being consciously pained.
There are thousands of persons not interested in anything, persons who feel breakfast is no good, steak is not interesting, movies are just dull. In an important Aesthetic Realism lesson,* I asked a person whether she'd feel that way if she gave up being queen of the world. And she said she was queen of the world because she felt that way. This is the crux of philosophic depression: that the only way to be queen of the world is to feel bad.
There is a desire in all of us to get importance by being bored by other things, and disliking them. Suppose a person, Mrs. James, thinks she's a very good cook. Mrs. Gubbins invites her to lunch and has prepared a very good lunch. Can Mrs. James give up her supremacy over Mrs. Gubbins by liking it? Likely she'll find the meal bad.
Finding the world dull so that we can be superior to it is the cause of classic depression. However, it can take all sorts of specific forms. >>Read more
______________________
*The Frances Sanders Lesson, of 1945, Appendix II of Eli Siegel's Self and World (NY, 1981).