Understanding Marriage!
Taught by Aesthetic Realism consultants Barbara Allen, Meryl Nietsch-Cooperman, & Devorah Tarrow
Through studying the opposites of contempt and respect in the history of marriage and in their own lives including yesterday's incident at the breakfast table — wives learn how to use marriage and a husband to like the world. There is class discussion of such subjects as:
Real Trust in Marriage—How Can We Have It?
Is Understanding Your Husband Exciting?
How Can a Wife Feel Proud about Sex?
First Cupid, Then Quarrels—What's the Cause?
2nd Saturday of each month, 11:00 AM – 12:30 PM Eastern Time (USA)
Fall 2023 classes via video conference are now in session.
Want to audit a class?
Contact the registrar at 212.777.5055, between 2-6 PM Eastern Time (USA), Monday through Friday.
Be sure to make your request at least 2 days in advance of the class.
Once you receive permission to audit a class, click on the "AUDIT" button to pay the fee:
FACULTY BIOS:
Barbara Allen, Meryl Nietsch-Cooperman, Devorah Tarrow
Women say–

"I had a lot of confusion and trouble in love. This class changed the direction of my life and taught me how to be successful caring for a man. I learned that a man is related to the whole world! I'm proud and grateful to be married to my dear husband and to be celebrating our 11th anniversary." —Claudia Senatore, Nurse Practitioner

"I learned what true love is and it has made me feel integrated as a wife, teacher, daughter, and friend. I now really talk to my husband–and am really able to listen. Our conversations are now exciting! Not only do I love my husband more, but I care more for other people and the world itself. This class makes love possible and permanent." —Monique Michael, Teacher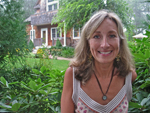 "After a failed marriage, I was able to learn about the mistakes I made in love. As a result, when my second husband and I exchanged marriage vows, it was one of the proudest days of my life because I knew I was getting married for the right reason! Six years later, our marriage is flourishing." —Lori Colavito, Teacher
You can read these news articles:
1. "Learn How Marriage Can Succeed in a Failed Economy"
2. "How Should a Widow Cope with the Loss of Her Spouse?"