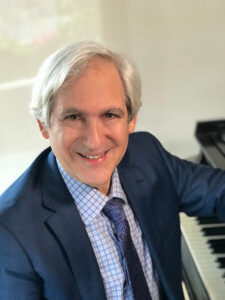 EDWARD GREEN, Ph.D, studied in classes with Eli Siegel and, with his colleague Barbara Allen, teaches the course "The Opposites in Music" at the Foundation.
Since 1984, Dr. Green has been a professor at Manhattan School of Music. He has also served twice as a Fulbright Senior Specialist in the field of American Music. In 2010, under the Fulbright aegis and with the support of the Council for International Exchange of Scholars, he taught a doctoral course in contemporary American music at the Pontifical Catholic University of Argentina, Buenos Aires; in 2018, he delivered a Fulbright lecture series on Aesthetic Realism and Music at several scholarly venues in Asunción, Paraguay.
Edward Green is a composer whose music has been performed by orchestras and chamber ensembles across the United States as well as overseas. Among his prize-winning works is his Brass Quintet, recipient of the 1995 International Kodaly Composer's Award, and his Symphony in C, which won the First International Symphonic Composition Prize (2017) of the Orquesta Sinfónica del Congreso Nacional del Paraguay. He is also Staff Composer at Imagery Films, where he has collaborated with the Emmy Award-winning filmmaker Ken Kimmelman on several films, including "Hot Afternoons Have Been in Montana"—a film based on Eli Siegel's Nation prize-winning poem. Dr. Green has also composed incidental music for several productions of the Aesthetic Realism Theatre Company.
In 2008, he received his Ph.D. from New York University with a dissertation based on the methodology of Aesthetic Realism and dealing with the late vocal music of Haydn and Mozart. Dr. Green has been a guest lecturer at universities and cultural institutions here and abroad, including the University of Zagreb, the Museum of the City of New York, Monash University in Melbourne, Australia, and the Escola Superior de Música of Lisbon, and has delivered papers at many scholarly conventions, nationally and internationally—including those of the American Musicological Society, the Society for Ethnomusicology, the Society for American Music, and the European Society for the Cognitive Sciences of Music. His essays have appeared in such journals as Jazz Perspectives, Onagakugaku—the journal of the Musicological Society of Japan, Choral Journal, and the Journal of Historical Research in Music Education. He was guest editor, in 2011, of an issue of Popular Music History honoring the centenary of film composer Bernard Herrmann. He is editor of China and the West: The Birth of a New Music (Shanghai Conservatory Press) as well as The Cambridge Companion to Duke Ellington, and serves on the editorial board of the International Review of the Aesthetics and Sociology of Music (Croatia).
A contributor to Aesthetic Realism and the Answer to Racism (Path Press, 2023), Dr. Green has written articles dealing with the ethics of social issues for such journals as Black College Magazine, The African Observer, and Christian Social Action.
Edward Green has spoken and written widely about the value of Aesthetic Realism as a scholarly method. His works include: "Aesthetic Realism: A New Foundation for Interdisciplinary Musicology"—a 2004 presentation at the University of Graz, Austria, co-authored with anthropologist Arnold Perey; a 2005 essay in the International Review of the Aesthetics and Sociology of Music titled "Donald Francis Tovey, Aesthetic Realism, and the Need for a Philosophic Musicology"; and, with music educator and jazz pianist Alan Shapiro, a chapter in Teaching Music in the Urban Classroom (Rowman & Littlefield, 2006) entitled "Music of Every Culture Has Something in Common and Can Teach Us about Ourselves: Using the Aesthetic Realism Teaching Method." This book was published in partnership with the National Association for Music Education. In recent years, interviews with Dr. Green about music and Aesthetic Realism have appeared in Italian, Russian, and American cultural journals.
Since the mid-1980s, Edward Green has been an active participant in seminars at the Aesthetic Realism Foundation; among his talks have been papers on the lives and music of Johannes Brahms, Glenn Gould, Irving Berlin, John Lennon, Hector Berlioz, and Sir Arthur Sullivan. Several of these papers are published on his website: http://www.edgreenmusic.org. He has also co-authored papers with Barbara Allen on the masterpieces of flute literature. These explore the relation of art and life, and what technically makes for the beauty of these compositions—each paper culminating in a live performance by Ms. Allen on flute and Dr. Green on piano. An extended  interview of Ms. Allen by Edward Green entitled "Aesthetic Realism and the Art of the Flute," appeared in the Winter, 2015 edition of The Hellenic Journal of Music, Education, and Culture.
Edward Green continues his study of Aesthetic Realism in classes taught by Ellen Reiss. He is married to Carrie Wilson, singer, actress, and Aesthetic Realism Consultant, and they make their home on Manhattan's Lower East Side.