Aesthetic Realism and the Answer to Racism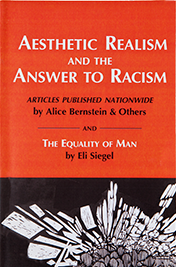 AESTHETIC REALISM AND THE ANSWER TO RACISM
by Alice Bernstein, et al.
"This book is being published with a sense of urgency and hope: urgency, because racism is still rampant in the world; hope, because there is a true, practical, kind, learnable, and—yes—even beautiful answer. It documents how, through study of Aesthetic Realism, contempt changes—not into "tolerance," but into true respect for other people." — Alice Bernstein
Note— A New, Updated Edition of this important book will be available in  Autumn 2021!
Paper $16.95
ISBN 0-9759813-2-3; ISBN 9-780975-981320