Art and Our Lives
By Dorothy Koppelman
Eli Siegel explained the true meaning of art for our lives, and I am proud today to say only a small part of what that is. He said this: "All beauty is a making one of opposites, and the making one of opposites is what we are going after in ourselves." No one — no scholar, no artist, no person — in all the centuries ever saw this before: that we can learn about ourselves from the very technique of art!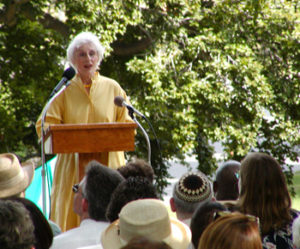 The opposites are around us and in us now. Take one tree: it is firm and its limbs are flexible; it is rooted, attached securely to the earth, and those delicate leaves sway in the wind. That is how a person wants to be: feet on the ground, firm and flexible, secure and happily responding to what's not us. We want the many aspects of ourselves to go together the way many branches of a tree are so gracefully one tree. These opposites — firmness and flexibility, oneness and manyness — are together in all good art.
One of the worst things that people, including artists, have done is separate art from life. Art is seen as a superior make-believe world used to get away from the real world of family, worries, the world's turmoil, our miseries. Eli Siegel described that mistake and opposed it with the bravest constancy. He showed that far from being in a separate world, art has the answer to the trouble in this one.
In an Aesthetic Realism lesson I attended as a young artist, at a time I saw myself as very separate from most people, Mr. Siegel asked me: "Are you unique and related?" I felt a great relief seeing that I was. And I learned that is the purpose of every line in a painting: it separates and joins at once. Each apple in a Cézanne still life has a boundary, is unique, separate, and yet is joined with, related to, enhanced by every other red and yellow and green apple on that white tablecloth. We need to feel we're more ourselves, more individual, through seeing and liking our relation to other people, both near and far. That, Eli Siegel taught me, is the message of all art — and every person, every family, every nation needs to hear that message and learn from it.
I'm very glad to read a short poem by Mr. Siegel that I love, titled "This Is Asked":
What is art for? —
To like the world more,
To like ourselves more,
To like time more.
See Statements by Other Speakers
1. ADDRESS by Ellen Reiss Aesthetic Realism Chairman of Education
On Eli Siegel's historic understanding of:
2. EDUCATION — Lois Mason & Rosemary Plumstead
3. RACISM — Dr. Arnold Perey, Monique Michael, Allan Michael, & Dr. Jaime Torres
4. ART — Dorothy Koppelman
5. LABOR & ECONOMICS — Timothy Lynch
6. LOVE — Margot Carpenter & Robert Murphy
7. STATEMENT by Chaim Koppelman, Sculptor & Designer of Memorial
♦ Brief biographies of the speakers & other participants.
♦ Mayor's Proclamation | Governor's Proclamation | In the U.S. Congressional Record
.