The Greatest Educator
By Lois Mason & Rosemary Plumstead
We have seen that with a steadiness and beauty akin to the rising of the sun, the Aesthetic Realism Teaching Method enables young people — including the most disadvantaged — to LEARN! We teach students from the toughest areas of New York City; students who are angry, jaded, have given up on themselves, and mistakenly use the economic injustice, prejudice, and violence they witness daily to feel, "I hate this world."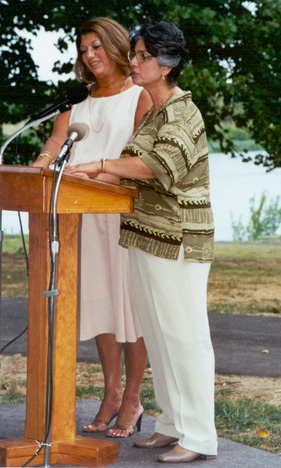 They come to love learning as they see what Eli Siegel was the first educator to explain: "The purpose of education is to like the world through knowing it." They see that each subject in the curriculum represents a world that can be honestly respected because it has a logical, sensible structure of opposites — the same opposites that are in them.
As I [Rosemary Plumstead] teach a unit on the heart, for example, I show that the valves in our heart are delicate AND strong at once. As I [Lois Mason] teach US history, I show that Abraham Lincoln put together mightily toughness AND gentleness. This is how we want to be. Mr. Siegel's seeing that the opposites relate world, art, and self has ended the agonizing rift in education between fact and meaning! Students from city to suburbs learn successfully, remember facts, and not only pass their required exams, but are kinder!
And as they see what Mr. Siegel explained, that contempt is the cause of every instance of brutality between people — slavery, the Holocaust, the horror of 9/11 — and that the same contempt is in them, they don't want to have it. The Aesthetic Realism Teaching Method brings out students' true intelligence and their finest ethical sense. That is why we believe that Eli Siegel is the greatest educator ever to live and the Aesthetic Realism Teaching Method is the birthright of every student and teacher.
See Statements by Other Speakers
1. ADDRESS by Ellen Reiss Aesthetic Realism Chairman of Education
On Eli Siegel's historic understanding of:
2. EDUCATION — Lois Mason & Rosemary Plumstead
3. RACISM — Dr. Arnold Perey, Monique Michael, Allan Michael, & Dr. Jaime Torres
4. ART — Dorothy Koppelman
5. LABOR & ECONOMICS — Timothy Lynch
6. LOVE — Margot Carpenter & Robert Murphy
7. STATEMENT by Chaim Koppelman, Sculptor & Designer of Memorial
♦ Brief biographies of the speakers & other participants.
♦ Mayor's Proclamation | Governor's Proclamation | In the U.S. Congressional Record