Reproduced here is the printed program given to the people who attended the Dedication of the Eli Siegel Memorial on August 16, 2002. The program included an address by Ellen Reiss and others speaking about Eli Siegel. They are also presented online.
The Baltimore City Department of Recreation & Parks
and the Aesthetic Realism Foundation present
DEDICATION OF
ELI SIEGEL MEMORIAL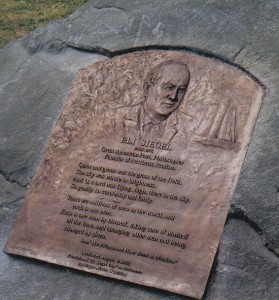 DRUID HILL PARK
August 16, 2002
"Eli Siegel Day" in Baltimore
by Proclamation of Mayor Martin O'Malley
&
"Eli Siegel Day" in Maryland
by Proclamation of Governor Parris N. Glendening
Partial List of Supporters of the Eli Siegel Memorial in Druid Hill Park
Parris N. Glendening, Governor of Maryland
U.S. Senator Barbara A. Mikulski, Maryland
U.S. Senator Paul S. Sarbanes, Maryland
U.S. Congressman Elijah E. Cummings, 7th District, Maryland
U.S. Congressman Benjamin L. Cardin, 3rd District, Maryland
Maryland State Senator Joan Carter Conway, 43rd Legislative District
Maryland State Senator Barbara A. Hoffman, 42nd Legislative District
Maryland State Senator Paula C. Hollinger, 11th Legislative District
Delegate Salima Siler Marriott, Maryland State Legislature – District 40
Delegate Shirley Nathan-Pulliam, Maryland State Legislature – District 10
Sheila Dixon, President of Baltimore City Council
Keiffer J. Mitchell, Jr., Baltimore City Council, Fourth District
Angela Welch, Baltimore City Council, Fourth District
Lisa Joi Stancil, Baltimore City Council, Third District
Marvin F. Billups, President, National Recreation and Park Association
Former Mayor Kurt L. Schmoke
Judge Paul A. Smith, Circuit Court for Baltimore City
Alvin C. Collins, Chief-of-Staff for Governor Parris N. Glendening
Thomas H. Ridgley, President & Principal Officer, Teamsters Local 103, Maryland Public Employees
Israel "Izzy" Patoka, Director, Mayor's Office of Neighborhoods
Erick Oribio, Maryland Department of State, Mayor's Hispanic/Latino Advisory Council
John McGrain, County Historian, Baltimore County
Dr. Calvin Burnett, President, Coppin State College
Dr. Earl Richardson, President, Morgan State University
Oscar Jobe, Chief-of-Staff, Baltimore City Public School System
Camay Murphy, Executive Director, Eubie Blake National Jazz Institute
Kristi L. Alexander, Executive Director, Baltimore County Historical Society
LaVerne Fields, Community Leader of Lakeside Garden Residents Association
Earl Arnett, President, Greater Mondawmin Coordinating Council
Chartruse Robinson, President, Reservoir Hill Improvement Council
Dr. Sally J. Scott, Convenor, Lakeside Neighbors Coalition; Cochair, Beth Am Synagogue Social Action Committee
Arlen E. Cullors, Jr., Pharm. D., President, Upper Eutaw Madison Neighborhood Association
Russ Moss, Arts Council of Reservoir Hill – Art on the Hill
Dr. Robert Lisle, President, Chesapeake Antiquarian Photographic Society
Rebecca Yenawine, Executive Director, Kids on the Hill
Michael Cooke, Reservoir Hill Healthy Neighborhoods Initiative
Robert Adams, President, Bolton-Park Neighbors, Inc.
Dr. John Baer, Educator, Pledge of Allegiance Historian, & Mary Baer Julie Cavnor, Executive Director, Maryland Art Place
Douglas Henley, Executive Director, War Memorial Commission
Debra Seeberger, Special Assistant to the President for Diversity & Equal Opportunity, Towson University
Steven R. David, Professor, Political Science; Associate Dean, Johns Hopkins University
Persons of the Department of Recreation & Parks who assisted in the coming to be of this memorial:
Kimberley Amprey, Interim Director. Park Board Commissioners: Chickie Grayson, President; Henry H. Hopkins, Selwyn I. Ray, Carlos Torres, Carolyn D. Wainwright, Rosetta Kerr Wilson. Staff, including: Noble Campbell, Robert Dallas, Roland Dorsey, Deirdre Gold, Leslie Murphy, Mary Porter, Annette Stenhouse, William D. Stine, Betty Woods, Gloria Whittington; and Gennady Schwartz, Chief, Capital Planning, for finding the beautiful memorial boulder in Druid Hill Park
And we thank:
Dave Matthews, Butler Stone Quarry, Butler, MD, with Anthony Taylor and Walter Stowers, for the installation of boulder and plaque; Allied Contractors, Inc., Baltimore, MD, for the assembly and installation of benches; Dale Laurin, AIA, architect, for providing detailed site drawings; James P. Reger, Principal Geologist, Maryland Geological Survey, Baltimore, MD; Sandy Jones, D.M. Stoltzfus & Son; Elk Mills Quarry, MD; Joe Vinci, Vinci Stone Products, Inc., Marriottsville, MD; Brad Rosenberger, Rohrer's Quarry, Inc., Lititz, PA; Jim Strickland, Maryland Stone Service, Inc., Baltimore, MD; Frances Ferguson, for providing beverages; Alan Shapiro, for two musical arrangements; Anne Fielding, Devorah Tarrow, and Ernest DeFilippis for their assistance in the preparation for this dedication.
Eli Siegel Memorial Committee
Alice Bernstein, David Bernstein, Dorothy Koppelman, Chaim Koppelman, Sally Ross, Derek Mali, Marcia Rackow, Ken Kimmelman
The bronze memorial plaque was cast at the New Foundry New York.
♦
DEDICATION CEREMONY
ELI SIEGEL DAY, DRUID HILL PARK
August 16, 2002
MUSICAL PRELUDE — Prism Brass Quintet*
I. GREETING — Kimberley Amprey
II. INTRODUCTION — Carrie Wilson
III. PROCLAMATION by MAYOR MARTIN O'MALLEY
"ELI SIEGEL DAY IN BALTIMORE"
Read by Carrie Wilson & Edward Green
IV. ADDRESS by Ellen Reiss Aesthetic Realism Chairman of Education
V. ON ELI SIEGEL'S HISTORIC UNDERSTANDING OF:
EDUCATION — Lois Mason & Rosemary Plumstead
RACISM — Dr. Arnold Perey, Monique Michael, Allan Michael, & Dr. Jaime Torres
ART — Dorothy Koppelman
LABOR & ECONOMICS — Timothy Lynch
LOVE — Margot Carpenter & Robert Murphy
VI. "SOMETHING ELSE SHOULD DIE:
A POEM WITH RHYMES," by Eli Siegel
Read by LaVerne Fields
VII. STATEMENT by Chaim Koppelman
SCULPTOR & DESIGNER OF MEMORIAL
VIII. UNVEILING & READING OF INSCRIPTION
Read by Derek Mali
MUSICAL POSTLUDE — Prism Brass Quintet
*Matthew Bickel, trumpet
Steve Haase, trumpet
Sam Buccigrossi, tuba
Erik Kofoed, French horn
Aaron Moats, trombone
ABOUT THE PARTICIPANTS
Kimberley M. Amprey, Interim Director of the Dept. of Recreation and Parks, was formerly an analyst in Mayor O'Malley's CitiStat office.
Margot Carpenter,* originally of Miami, is a poet and, along with teaching Aesthetic Realism in consultations and seminars, she is Executive Director of the Aesthetic Realism Foundation. Published on love and women's issues, she is also an authority on dance and was a soloist with the Miami Ballet.
LaVerne Fields is Community Leader of the Lakeside Garden Residents Association, Baltimore.
Edward Green is a composer and teaches on the faculties of Manhattan School of Music and the Aesthetic Realism Foundation. He recently spoke on Aesthetic Realism and the music of Duke Ellington at Baltimore's Eubie Blake National Jazz Institute. In September a work of his will be premiered at the Kennedy Center in Washington, DC, by Prism Brass and saxophonist Dale Underwood.
Chaim Koppelman,* designer of the Eli Siegel Memorial, began his study with Eli Siegel in 1940. He is on the faculties of the School of Visual Arts and the Aesthetic Realism Foundation. His prints are in the collections of the Museum of Modern Art, Metropolitan Museum of Art, Los Angeles County Museum, Victoria and Albert Museum in London, Guggenheim Museum, Philadelphia Museum of Art, the National Gallery, and others. He is a member of the National Academy of esign.
Dorothy Koppelman* began her study of Aesthetic Realism with Eli Siegel in 1942. She founded the Terrain Gallery in 1955, with exhibitions based on this principle stated by Mr. Siegel: "In reality opposites are one; art shows this." Mrs. Koppelman conducts "Critical Inquiry: A Workshop for Visual Artists" at the Aesthetic Realism Foundation. Her work has been shown in museums throughout the country, and is in the collections of Hampton University, VA, and the National Museum
of Women in the Arts, Washington, DC.
Timothy Lynch is President and Principal Officer of Teamsters Local 1205 in New York, and an Aesthetic Realism Associate. He has been interviewed on radio and TV, and been published on Aesthetic Realism and economics in major newspapers, including the Los Angeles Times, the Wall Street Journal, the Star-Ledger of New Jersey, as well as in many union periodicals.
Derek Mali,* actor, has taught Aesthetic Realism for over 30 years, giving consultations and presenting seminars on such subjects as "Justice & Comfort: What's the Relation?," "How Much Should a Man Care For—Besides Himself?," "Do We Know What's Best in Us?—& What's Worst?"
Lois Mason* is an instructor of the workshop for educators "The Aesthetic Realism of Eli Siegel As Teaching Method." A public school teacher since 1971, she currently teaches US history at New Utrecht HS in Brooklyn. She has written articles, and spoken at professional conferences, on the Aesthetic Realism Method
in teaching social studies.
Allan Michael is a Maritime Captain and photographer. On September 11, 2001, working for Circle Line Tours, he ferried people from New York safely to New Jersey. His photographic work has been exhibited at the Terrain Gallery, NYC, and the Craven Gallery's "Emerging African-American Artists" show in Martha's Vineyard, was part of the traveling exhibition "Art Against Apartheid," and has appeared in Essence magazine. Mr. Michael is published on the subject of how Aesthetic Realism can end racism.
Monique Michael was born in Port-au-Prince, Haiti, from which her family fled in 1965 to escape the brutal Duvalier dictatorship. She has been an elementary school educator for the past 10 years, and has written articles and conducted workshops at educational conferences describing the success of the Aesthetic Realism Teaching Method.
Robert Murphy* has written and spoken on Aesthetic Realism's understanding of such diverse subjects as economics, love, and the cause of and solution to youth violence. With Barbara Allen,* he teaches young people in the "Learning to Like the World" class at the Aesthetic Realism Foundation and in classes at youth centers throughout New York.
Arnold Perey, Ph.D.,* teaches the course "Aesthetic Realism and Anthropology" and is an instructor of "The Aesthetic Realism of Eli Siegel As Teaching Method." He received his doctorate in anthropology from Columbia University; and his dissertation, based on Aesthetic Realism, describes research conducted in Papua New Guinea, supported by the National Science Foundation. He taught at the City University of New York and Seton Hall University, and his articles include "A New
Perspective for American Anthropology: The Philosophy of Aesthetic Realism" and "The Real Opposition to Racism."
Rosemary Plumstead* is an instructor of "The Aesthetic Realism of Eli Siegel As Teaching Method." She teaches science at Fiorello LaGuardia HS of the Arts in New York City, and has been published extensively on educational issues. She has conducted workshops at conferences for science educators in New York, New Jersey,
North Carolina, Pennsylvania, and Maryland.
The Prism Brass Quintet, founded at the Eastman School of Music, is the graduate brass quintet-in-residence at the University of Maryland, College Park. They were on the faculty of the 2002 Tanglewood Institute of Boston University. (They are joined today for the playing of Weber's "Konzertstück" by flutist Barbara Allen.)
Ellen Reiss* is the Class Chairman of Aesthetic Realism, appointed by Eli Siegel. She teaches the professional classes for Aesthetic Realism Consultants and Associates. A poet and critic, she also teaches the course "The Aesthetic Realism Explanation of Poetry" at the Foundation. Prior to becoming Class Chairman in 1977, she taught in the English departments of Hunter College and Queens College of the City University of New York. As Editor of the international periodical
The Right of Aesthetic Realism to Be Known, her commentaries on world events, literature, history, and the human self have been educating people worldwide. She is considered by many people the foremost educator in the world today.
Jaime Torres, DPM, is Chief of Podiatry at Coler-Goldwater Memorial Hospital in New York, and an Aesthetic Realism Associate. He is on the advisory boards of The National Hispanic Medical Association and the National Diabetes Education Program. His articles on healthcare have been published in Spanish and English newspapers and professional journals. With Dr. Perey, he spoke at the Campus Outreach Opportunity League's National Conference at Harvard University, on Aesthetic Realism and how prejudice can end.
Carrie Wilson,* actress and singer, teaches the Aesthetic Realism class "The Art of Singing: Technique and Feeling." Originally of Philadelphia, she is also an art historian. A coordinator of the Terrain Gallery, she has lectured on the Aesthetic Realism explanation of art and life and on works by such artists as Renoir,
Botticelli, and Rembrandt.
* Aesthetic Realism Consultant