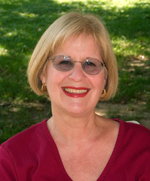 Faith K. Stern, Aesthetic Realism consultant, created the popular website beautyofnyc.org with her husband, John Stern. She says:
Like women everywhere, I was very confused by my conflicting feelings, and often seemed tossed about from one emotion to the next, without seeing any relation between them. For instance, friends and family complained that I was bossy, and I knew it was true, but I could also be considerate and big-hearted.
Imagine my happiness and gratitude when, at 23, I began to study Aesthetic Realism with its founder, Eli Siegel, and learned that people are trying to put together opposites! When I read Mr. Siegel's essay "A Woman Is the Oneness of Aesthetic Opposites" I felt it described me, and it also showed me that the contradictory things I'd been troubled by in myself were not just "personal"—they were part of the structure of the world. Here, for example, is his Point 5:
HARD: SOFT. Often a determination comes to women which can hold its own with that of Napoleon or a boulder in a city park. And women are also pitying, sympathetic, moved to give up their notions because of the plight of another.
Each of Mr. Siegel's descriptions of the opposites in a woman has a vivid, musical, "from within" quality that is ever so kind. I believe the comprehension every woman is looking for is in this essay.