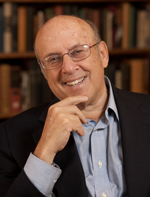 Jeffrey Carduner, Aesthetic Realism Consultant, writes:
Does every person have a desire to be just, and also a desire to own, manipulate, lessen the outside world and other people?  Is a great play of Marlowe, Dr. Faustus, a means of understanding these warring purposes?
And: can two big opposites, knowing and feeling, ever make sense and work together in us in a way that strengthens us?
The comprehension that people—and nations—long for is in "Will It Be Knowing or Contempt?," the important, needed new issue of The Right of Aesthetic Realism to Be Known.
The commentary by Ellen Reiss begins:
Dear Unknown Friends:
We continue our serialization of The Scientific Method in Feeling, by Eli Siegel. This 1973 lecture is about two tremendous opposites in everyone: knowing and feeling. There has been trouble, pain, shame in about every life because the two have seemed at odds. Both men and women have felt that emotion, especially big emotion, made them less logical; and that to think carefully one had to put aside feelings, that to be reasonable was to be unstirred, rather cold.
Aesthetic Realism shows, magnificently, that knowing and feeling are always together. On how they're together will depend our integrity or lack of it. And all art, true science, real intelligence, authentic kindness are, each of them, a oneness of mental exactitude and emotion. "All beauty," Aesthetic Realism explains, "is a making one of opposites, and the making one of opposites is what we are going after in ourselves." That principle is the basis of the great lecture we're serializing.
Scientific Method, Fundamentally
As Mr. Siegel speaks about scientific method he is speaking about what it fundamentally is, what's crucial in it, not certain procedures. He says early in the lecture: "The purpose of the real scientific method would be to know a thing in the best way." And in his Definitions, and Comment he explains:
A person…is scientific: 1, when he goes after truth; 2, when he knows he's going after it; 3, when the opportunity to go after something else is not taken advantage of.
In this talk Mr. Siegel is using selections from the College Book of English Literature to illustrate the simultaneity of science, or knowing, and feeling….Read more.