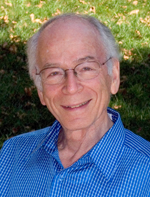 John Stern, Aesthetic Realism consultant and former Tri-State urban and regional planner, writes:
I have long been interested in New York City—its 400-year history, its people, buildings, its geology, transportation, and waterways. When I heard Eli Siegel's lecture New York Begins Poetically, my eyes opened to the most important means of understanding the city I've loved now for more than three-quarters of a century. Mr. Siegel has us feel we are there—related to people of other times and eras. This talk is one of many that had me see the thoughts and feelings of other people as more real, and so enabled me to become a kinder person. Commenting on the lecture, editor Ellen Reiss writes:
We begin to serialize the lecture New York Begins Poetically, which Eli Siegel gave in October 1970. Relating aspects of history, literature, and the feelings of people, it is a deep, leisurely, surprising, often humorous discussion. In it, this Aesthetic Realism principle is inseparable from New York—her earth, years, lives: "All beauty is a making one of opposites, and the making one of opposites is what we are going after in ourselves."
Eli Siegel loved New York, and the city is present in many of his poems. Despite all the injustice, and the suffering too, that have taken place here, New York is beautiful, and one of the reasons is the way suffering and injustice have been fought.
In New York Begins Poetically, it is principally Manhattan that Mr. Siegel speaks of and presents as having that oneness of opposites which makes for poetry. In this first section, beginning with 1626 and Peter Minuit, he comments on three pairs of opposites. And so, by means of introduction, I'll say a little about ways those opposites can be in us, in all people, very often confusingly and troublingly….
Read the issue of The Right Of in which this lecture begins.
Read the other issues of The Right Of in which this lecture is serialized.
Visit "Aesthetic Realism Looks at New York City"—Landmarks, Poetry, & more.
See the exciting Terrain Gallery photography exhibition about NYC.