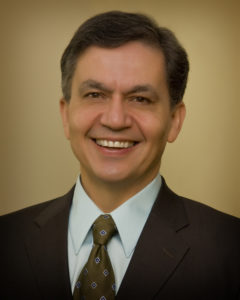 JAIME R. TORRES, DPM was appointed by President Barack Obama as the Regional Director of the U.S. Department of Health and Human Services, Region II, and he served from April 6, 2010 until July 18, 2014. (Region II covers New York, New Jersey, Puerto Rico, and the US Virgin Islands.)
He currently serves as Vice President of Community Relations & Partnerships at Urban Health Plan, a large community health centers network in New York.
Earlier in his career he was Associate Director of Consultative Services at Coler Memorial Hospital in New York City, part of the NYC Health + Hospital system—the largest public health system in the nation. He has served in leadership positions as Board Member of the National Hispanic Council on Aging, and on the Advisory Board of the National Hispanic Medical Association (2000-2006).
In 1984, after completing his residency, he worked in the South Bronx, where he saw firsthand the human reality of health disparities and the plight of the uninsured and underinsured. He began to work with local community groups to provide bilingual educational materials and to improve health services. In order to learn more about health policy, he applied and was accepted to the National Hispanic Medical Association's Leadership Program, and completed a Master of Science in Community Health from Long Island University.
In 2005, with Dr. Olveen Carrasquillo, he founded Latinos for National Health Insurance, which became Latinos for Healthcare Equity—a national coalition of Latino leaders advocating for a national health insurance program and equality in healthcare. In this capacity, he convened many forums and Congressional briefings which helped educate Latino organizations and elected officials on efforts to reform healthcare and health disparities.
Dr. Torres is an Associate at the Aesthetic Realism Foundation, and is very active in the Foundation's Outreach programs. He is a co-author of Aesthetic Realism and the Answer to Racism (Orange Angle Press, 2004) and a frequent speaker on topics including racism, the uninsured, and ethics in healthcare issues. Additionally, he has authored articles that have been printed across the United States in both Spanish and English, concerning ethics and the healthcare system.
Because of his advocacy work on healthcare, he was named one of "100 Most Influential Hispanics" by Hispanic Business Magazine and received the "EL" Award from El Diario La Prensa. He has also been honored with the National Hispanic Medical Association's Health Leadership Award and the NYC Commission on the Public's Health System's Healthcare Hero Award. In 2018 he was presented with "The Best in Our Community" award by Comite Noviembre for his work to help Puerto Rico after Hurricane Maria.