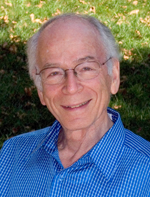 John Stern, Aesthetic Realism consultant and former Tri-State urban and regional planner, created the popular website beautyofnyc.org with his wife Faith Stern. He writes:
My history classes in high school and college consisted mostly of dates, battles, the reigns of rulers, and legislation. Imagine, then, my surprise and thrill when I read Eli Siegel's definition of history from his 1945 work Definitions, and Comment: Being a Description of the World: "History is shown feeling about the past." It is a wholly new way of seeing history, and one that I treasure.
That definition came alive in Aesthetic Realism classes, in which Mr. Siegel discussed hundreds of persons of the past—known and not so well known—with a depth and width of understanding that make him the greatest of historians. In one class, he asked me, in relation to a guidebook describing New York City architecture, "What do you think may be missing?" I didn't know, and he explained, "The feelings of the people who lived in these buildings. For instance, what might a young wife have felt in April 1861, hearing about the attack on Fort Sumter, and thinking about her husband?"
In order to understand ourselves and today's turbulent world, we need to know and see our relation to the people who have lived before us. They had the same hopes and fears, goodness and evil as people living today. Knowing history, as Eli Siegel defines history, is, I've learned, necessary to knowing ourselves.
Mr. Siegel writes:
History is shown feeling about the past.
History is the organization of memory, single and general memory.
The past changes into the present by being remembered. A present feeling and a feeling remembered are of the same time. This means that a thought about Julius Caesar is as immediate, once had, as a thought about an uncle or a girl friend.
History is about the whole past. And since the past is existence seen as up to now, it is also about existence in general; for the understanding of existence up to now implies an understanding of existence beyond now. The past, felt utterly, wholly, would mean the future felt utterly, wholly. All history is felt in the present.
History is about every single thing. History aims at the grand, inconceivable inclusiveness of existence. History is therefore about the development of shirts, the attitudes to idols, transactions on South American savannahs, and about history itself. History should include dead infants and disappointed maiden ladies. It should include the possible boredom of the year 412, and the excitement of the year 1649. Whatever has been is history's field. >>Read more