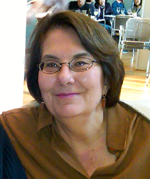 Richita Anderson, Aesthetic Realism associate, writes:
Having studied and cared for anthropology both in college and later, I see anthropologist Dr. Arnold Perey's Gwe, Young Man of New Guinea: A Novel against Racism as indispensable to the understanding of humankind, from the earliest cultures to our present day. In the novel, Dr. Perey writes about the people with whom he lived in a remote mountain community of Papua New Guinea, whose culture was close to Neolithic. And he shows they have hopes and fears that are fundamentally the same as our own.
Through studying Aesthetic Realism with its founder, Eli Siegel, Dr. Perey has learned how to see the depths and complexities of people, and the fundamental fight in every person between the desire to respect the world and the desire to have contempt for it. Contempt, Mr. Siegel explained, is the "disposition in every person to think we will be for ourselves by making less of the outside world"; and he showed definitively that contempt is the cause of racism. Dr. Perey illustrates this principle clearly and richly in the bi-weekly course, "Anthropology Is about You & Everyone," which he teaches via videoconference. His novel Gwe is a vital work in the understanding of humanity and the countering of racism.
In reading this book I came to have—and I think all readers will—a real care for Gwe and those around him, and to feel a kinship with people whose lives, while different, can teach us about our own.
Here is how Chapter 1, "Gwe Is Born," begins:
Eli Siegel.   What is the biggest question about birth?
Arnold Perey.   I don't know.
Eli Siegel.   To whom does the child belong?
— From an Aesthetic Realism Class
Her second son was born an hour before dawn, when it was cold, in the Rainy Season. According to custom, the child was nameless for 27 days and was secluded with her in a birth house built in a quiet tree-covered place by her brother and herself.

Those 27 days she held the small being in her arms, taking turns with her sister who was secluded with her. Thus the most vulnerable days for the infant were taken care of, keeping the baby steadily warm in mountain weather, cold even indoors.

Bettiana looked at his soft skin, the color of sunny earth. She felt his fingers grasp at her, and while he sucked milk from her breast she felt, blissfully, "The world is so kind." Then, in the dark, her mind seemed to turn upside down, and she remembered how insultingly her husband had ignored her opinion in the garden. Again, he said the potatoes she was ready to harvest weren't big enough yet! She cradled the infant closer and thought, "But my baby loves me." The babe seemed to reply by paddling its little arms in the air and gurgling.

When the day of presentation arrived, the 28th day, she brought the baby out into the world—into daylight for the first time. Son in her arms, she presented the baby to the families of her husband and herself, and the neighbors, who gathered at her door. She showed the father the delicate hands and feet, refined ears, and the baby's private parts. Everything was perfect. The name of the person to whom this everything belonged was Gwe. >>Read more