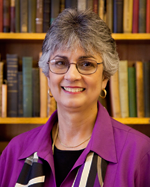 ROSEMARY PLUMSTEAD grew up in Bayside, Queens where she attended Bishop Reilly High School. After receiving an AA degree at Queensborough Community College, she obtained a BA in Health and Physical Education from Herbert H. Lehman College in the Bronx and an MS in Community Health from Hunter College in New York City. In 1971, she began a teaching career in the New York City Public High Schools that lasted 33 years, during which time she pioneered the use of the Aesthetic Realism Teaching Method as the basis of her health, physical education and, for the last 12 years, high school science lessons.
Mrs. Plumstead has been an Aesthetic Realism consultant to women since 1978. She has also been one of the instructors with All For Education, of the bi-weekly workshop for educators of all grade levels and subjects, since 1975. She has given more than 80 presentations and staff development workshops on the Aesthetic Realism Teaching Method at Art, Science and Middle School Conferences in New York, New Jersey, Pennsylvania, Maryland, North Carolina, Ohio, Florida, Kentucky, California, Georgia, Virginia, Louisiana, Michigan, Idaho and Minnesota.
With her colleague, art teacher and Aesthetic Realism Associate Donita Ellison, she participated in the August, 2002 InSEA World Congress in a presentation titled, "The Aesthetic Realism Teaching Method Shows the Thrilling Structure in Common Between Art and Science!"
For nearly 30 years, Mrs. Plumstead has participated in public seminars at the Aesthetic Realism Foundation where she has illustrated, using lessons from her own classroom teaching, the success her high school students have achieved, through the Aesthetic Realism method, including those who early declared their hate for science and inability to learn the subject.
Mrs. Plumstead has had many articles showing the usefulness of Aesthetic Realism published in newspapers and journals throughout the country in relation to road rage, drug use by young people, economic injustice, environmental issues, marriage, youth violence, and teaching. Her articles "The Success of the Aesthetic Realism Teaching Method: Interest Wins, Cynicism Loses in Both Teachers and Students!," (2004) and "The Aesthetic Realism Teaching Method Shows Education Is Ethics" (2005: Vol. 69, No. 1) were published in The Science Teachers Bulletin, the official publication of the Science Teachers Association of New York State, Inc.
Mrs. Plumstead is also a co-author of the book, Aesthetic Realism and the Answer to Racism, by Alice Bernstein and Others, published by Orange Angle Press.
In her leisure time, she likes to garden, take a walk in the woods, and visit historic places.
Beginning in 1975, Rosemary Plumstead studied in the historic classes taught by Eli Siegel—poet, educator and the founder of Aesthetic Realism. Her studies continue now in the professional classes taught by the Chairman of Education, Ellen Reiss.
In 1983, she married Reverend Wayne Jack Plumstead, also an Aesthetic Realism Consultant. Reverend Plumstead has served local churches in the Greater New Jersey Annual Conference for nearly 40 years. Reverend Plumstead served as District Superintendent in the Palisades District in Bergen County for five years, until his retirement.
Save
Save