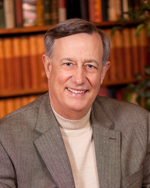 THE REV. WAYNE JACK PLUMSTEAD holds a Bachelor of Arts degree in News-Editorial from the Drake University School of Journalism in Des Moines, Iowa (1970) and a Master of Divinity degree from Princeton Theological Seminary (1974). Ordained an Elder in Full Connection in the United Methodist Church on June 4, 1975, he has served pastorates in Lower Berkshire Valley, Bayonne, Arlington, Jersey City, and Bloomfield, all in New Jersey. Prior to his retirement in 2016 after 43 years of ministry, he served as the District Superintendent of the Palisades District in the Greater New Jersey Annual Conference of the United Methodist Church.
Rev. Plumstead began his study of Aesthetic Realism in 1971 and studied with Eli Siegel to teach Aesthetic Realism in 1972. In 1973, he had the honor of being appointed an Aesthetic Realism consultant by Mr. Siegel and has served on the teaching faculty of the Aesthetic Realism Foundation since that time.
Rev. Plumstead credits Aesthetic Realism with having a profound and invaluable influence on his theological formation, writing: "Eli Siegel taught me that the heart of religion lies in aesthetics. He said: 'Aesthetic Realism sees the making one of opposites as the beginning of meaning in religious fact. There are many passages in the Bible showing that. Whenever God has been described, He is described in terms of opposites—for example, God should be feared and loved; He is in your heart and He has made mountains.'"
Rev. Plumstead has given public seminars at the Aesthetic Realism Foundation in New York City, speaking about the principles of Aesthetic Realism in relation to the lives of persons such as John Newton, Peter Marshall, Father Damien of Molokai, Father Edward J. Flanagan, Henry Ward Beecher, and Frederick Douglass, among others.
In 1994, the Board of Global Ministries of the United Methodist Church invited him to give a presentation at a consultation on Developing Multicultural Congregations, in San Antonio, Texas. The purpose of this presentation was to assist national church staff in developing strategies for congregations in transitional communities by presenting his own successful experiences using his Aesthetic Realism education to build flourishing multicultural congregations.
In 2000, Rev. Plumstead was invited by Bishop Alfred Johnson to give the opening sermon at the first meeting of the 683 clergy in the newly formed Greater New Jersey Annual Conference. And, in 2002, the United Methodist Publishing House printed his article titled "How Much of the World Does Jesus Ask Us to Include?" in its national magazine for United Methodist clergy, Circuit Rider, in order to help pastors minister effectively in the aftermath of 9/11.
Rev. Plumstead has served as president of the ecumenical Protestant Social-Outreach Agency Let's Celebrate, located in Jersey City, as a member of both the Raritan and Gateway North District Committees on Ordained Ministry, as chairperson of the Gateway North District Committee on the Superintendency and on the Executive Committee of the Greater New Jersey Annual Conference Board of Ordained Ministry as Provisional Registrar.