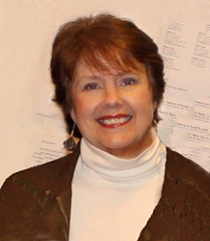 NANCY HUNTTING was born in Hartford, CT and grew up in Glendale, a suburb of Cincinnati, OH.
With a BA in English Literature from Denison University, she worked at Newsweek as an editorial assistant, and for Mayers & Schiff Architects. Her care for literature, architecture, and the visual arts and her study in these fields has been encouraged and deepened greatly by Aesthetic Realism.
Ms. Huntting is proud to be a coordinator of the international journal The Right of Aesthetic Realism to Be Known, and of the Terrain Gallery.
In public seminars given at the Foundation, she's written about the lives and work of women in history and today, including early English writer Aphra Behn, educator and reformer Dorothea Dix, 20th-century journalist Martha Gellhorn, photographer Lee Miller, and Nobel Peace Prize winner and environmentalist Wangari Maathai.
She is a speaker on subjects such as "The Most Popular Mistakes about Love—and How Not to Make Them!"; "The Drama in Women about Tenderness & Severity"; and "What's Best in Us—& How Can We Be True to It?" For her website, where you can read some of her seminars and published work, click here.