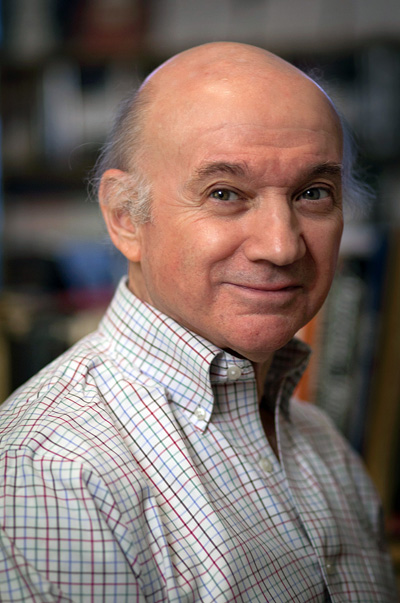 KEN KIMMELMAN is an award-winning filmmaker and recipient of a National Emmy Award for his anti-prejudice public service film "The Heart Knows Better," airing on TV, including CNN [Brochure]. As president of Imagery Film Ltd., he produced award-winning films for the United Nations against racism and apartheid. He also received a 1997-98 Emmy Award for his contributions to Sesame Street, and 1992 & 1993 Emmy and ACE nominations as a director on the animated TV series Doug. He teaches the new special film series here "If It Moves It Can Move You": Opposites in the Cinema. He is also one of the teachers of the Critical Inquiry: A Workshop in the Visual Arts.
His film "Thomas Comma" (2010), the animated adventure of a lonely comma looking for the right sentence, won many awards, including "Grand Festival Animation Award"—Berkeley Film Festival, and a "Platinum Remi Award"—Worldfest Houston. It is airing on PBS stations nationwide [Brochure]. "Hot Afternoons Have Been in Montana" (2006), based on the 1925 Nation prize-winning poem by Eli Siegel, won the "Best US Short," Avignon/New York; "Gold Remi Award"—Worldfest Houston; "Platinum Best of Show"—Aurora Awards; "Grand Festival Award in the Arts"—Berkeley Film Festival, among others, and airs on PBS [Brochure]. His public service film against homelessness, "What Does a Person Deserve?" received the Silver Cindy Award and airs nationally on TV [Brochure].
In 1968 he produced and directed the documentary People Are Trying to Put Opposites Together, about Eli Siegel teaching an Aesthetic Realism class, televised on WNET-TV Channel 13. He also produced political films, theatricals, TV commercials, and a film for New York City Opera's Beatrix Cenci, performed at Lincoln Center. He made many films for "Sesame Street," including Elmo's World, and was a director of the animated TV series Clifford's Puppy Days, Daria and The Wild Thornberries. He also produced films for the Children's Museum of Manhattan. He is currently in development, in collaboration with Jazz at Lincoln Center, on an animated feature film—Riding on Duke's Train about Duke Ellington. He is also in development on several documentaries: Tom Dettweiler, leader of the Titanic expedition; "Fascinating Rhythm: Dr.Jimmy Slyde," about the great tap dancer; a TV series titled "American Women Undercover;" and "Horn & Hardart's Automat."
Ken Kimmelman taught film and animation at New York University, and the School of Visual Arts. He recently returned from Israel where he was invited to present his film talks in Tel Aviv, Haifa, and Jerusalem. In January 2011 he gave a "Special Presentation" at the Modern Language Association's annual conference in Los Angeles, titled "Aesthetic Realism and the Literary Cinema of Ken Kimmelman." In 2006 in the Artists Talk on Art series given at the SVA, he presented "Aesthetic Realism: The Opposites of Technique and Feeling in Film". He also gave presentations of Film—and the "Art of Enjoying Justice"!  at the Masters Program at Syracuse University; the City University of New York; Wilfrid Laurier University in Canada, and the Jefferson Market Library in New York City. He has been a guest lecturer at the Manhattan School of Music, and has presented papers on the lives and work of D.W. Griffith, Charlie Chaplin, Ingmar Bergman, and others. His articles have been published in journals and newspapers across the country. His work was part of the 2006 Whitney Biennial Peace Tower.
As a lecturer on the answer to racism and bullying, he has spoken at the Brooklyn Children's Museum, the annual Queens Borough Public Library Tribute to Martin Luther King, Jr., and in schools, colleges, and organizations, such as the CSEA (New York City & State Employees Association) Educational Conference.
A founding member of the organization Housing: A Basic Human Right he participated in presentations at many colleges, including at Boston University, where he was the Keynote speaker at the Community Service Outreach Program; Vassar; NYU; Pace; Dickinson; and at organizations, such as the American Institute of Architects 2000 Convention in Philadelphia, the annual conference of the National Student Campaign Against Hunger & Homelessness at the University of Maryland; the Campus Outreach Opportunity Conference (COOL) at Harvard University; the Franklin County Local Housing Options Team (LHOT) Conference, PA; Public Policy Institute at North Shore Community College, Lynn, MA.
Save
Save
Save