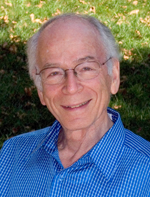 JOHN STERN is a graduate of Columbia University and Senior Planner and Researcher with the Tri-State Regional Planning Commission in New York (ret.).
See the Electric Railroaders Association website for Headlights magazine, to which Mr. Stern is a contributor.
See Aesthetic Realism Looks at New York City (www.beautyofnyc.org) for works by John Stern & colleagues.
He was born in Orange, NJ in 1927, lived in New Rochelle, NY, for 41 years, and now resides in Manhattan. He has enjoyed a lifelong interest in geology, architecture, history, cities, and transportation, which includes extensive reading on these and many other subjects. His travels include most of the United States, much of Canada and Mexico, and numerous countries in Europe.
Since 1970 he has been married to Faith K. Stern, his dear friend, colleague, and Aesthetic Realism consultant.
He has studied Aesthetic Realism since 1968, the first ten years with its founder, Eli Siegel. Mr. Stern states: "It is the privilege of a lifetime to have studied with him, to see firsthand his unparalleled knowledge, impeccable logic, beautiful and accurate passion, kind humor, and good will."
Papers he has presented publicly include:
When the first half-mile of the High Line opened as an elevated public park in June 2009, it was an immediate success. Pleased visitors from all over the world, including crowds of New Yorkers, have flocked to it, ranging from a few thousand on weekdays up to 20,000 on weekends.  What is it about this "park in the sky" that has attracted such interest?…more
Among the papers written for Aesthetic Realism public seminars are "The Bothersome Question that Won't Leave One," including a consideration of Sinclair Lewis's Babbit; "Why Is Family Life Often Unhappy?," discussing John Steinbeck's East of Eden; "The Ordinary Doom: What Is It?," including the life of W.C. Fields; "Men, Ambition, and Justice," looking at Robert Moses; "What Does a Man Want from the World?," including a discussion of The Grapes of Wrath; and "Is There a True Selfishness?," with a consideration of Fiorello LaGuardia.
And to have Americans meet the knowledge of Aesthetic Realism, so needed by people, letters and articles by Mr. and Mrs. Stern on health care, the economy, road rage, and more have been published in 17 states.
He writes: "I feel passionately that Aesthetic Realism must be studied worldwide for wars to cease, racism to end, and economic justice come to people everywhere."
Mr. Stern is described this way on the Electric Railroaders Association website:
John Stern's transit images form the backbone of the Sprague Library photography collection. They span a unique period in American transit history from the early 1940s to the late 1950s. We try to find an excuse to include a historic John Stern image in every issue of Headlights, digitally remastered from his original large-format black and white negatives.
* Portland Dreams Slideshow from John Stern's "Portland Dreams," Headlights, July-December 1999, page 21.
** John Stern's work is featured on the website, Aesthetic Realism Looks at New York City.  An illustrated transcript of John Stern's 2004 talk, "The New York Subway: A Century," is available below (updated October 2008).
*** The New York City Subway: A Century
See "Links to Headlights Contributors."
(Note: Headlights magazine is the periodical of the Electric Railroaders Association)