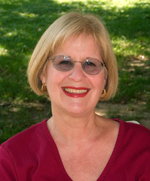 FAITH K. STERN was born in Brooklyn and grew up there. She has studied Aesthetic Realism since 1965, 13 of these years with its founder, Eli Siegel, and now with Ellen Reiss, Chairman of Education.
As a consultant with her colleagues in the traveling trio The Three Representatives, she has given consultations and seminars in people's homes in the tri-state area. Seminars include:
"What Does One Member of a Family Owe Another?," discussing Samuel Butler's The Way of All Flesh
"What People East, West, North, South Are Looking For," looking at Helen Keller's The Story of My Life
"What Is the Hope and Fear in New Yorkers and Others?," Sinclair Lewis's Main Street
"Why Is Family Life Often Unhappy?," a consideration of Arnold Bennett's The Old Wives' Tale
Mrs. Stern has given two papers on art: on Peter Paul Rubens' painting "The Descent from the Cross" and on a portrait of his wife, Helen Fourment.
She loves film and as part of her study of what makes a film beautiful, she has written on "It Happened One Night," "The Best Years of Our Lives," "The Godfather," and "The Exorcist."
She has been married to John Stern, Aesthetic Realism consultant and historian, since 1970. One of the things they love to do is explore New York and other cities—to see the relation of sameness and difference among neighborhoods; to see how old and new are shown by buildings built, say, in 1800, 1900, and yesterday; to find surprising architectural details on a single structure; to see the drama of hardness and softness in landscapes; and be affected by the feelings of people of the past and living now.
Many letters and articles by Mrs. Stern, on the economy, health care, the attack on the World Trade Center, and more have been printed by newspapers in many states.
Read the 2010 paper on "The Imaginative Beauty of New York's High Line" by Faith & John Stern. They write:
When the first half-mile of the High Line opened as an elevated public park in June 2009, it was an immediate success. Pleased visitors from all over the world, including crowds of New Yorkers, have flocked to it, ranging from a few thousand on weekdays up to 20,000 on weekends.  What is it about this "park in the sky" that has attracted such interest?…more