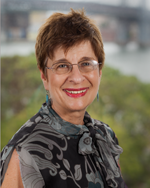 BARBARA KESTENBAUM grew up in Brooklyn, attended the High School of Fashion Industries, and continued her education at Fashion Institute of Technology.
Ms. Kestenbaum studied in classes taught by Eli Siegel, and continues her professional education in classes for consultants and associates taught by Chairman of Education Ellen Reiss.
She worked in the New York City Department of Education, including as a placement officer for Hard of Hearing/Visually Impaired Students in Manhattan.
She feels strongly that no person should worry about a decent place to live or about medical care or whether they will have enough to eat. Her desire for justice to come to all people has impelled her activity in a NYC municipal union, where she's served as shop steward and delegate. She has taken part in many union activities in behalf of economic justice. She is proud of the fact that her son, Matthew D'Amico, is a union official for a New York public sector union.
She was vice-president of her tenant association, served in a community garden, and took part in organizing outings for neighborhood children.
Ms. Kestenbaum is a contributing writer for the blogs UnionsMatter! and for Labor Press. Her articles and letters about what she's learned from Aesthetic Realism about economic justice and labor unions have been published widely in the U.S.
She is an Aesthetic Realism Consultant and has participated in public seminars presented at the Aesthetic Realism Foundation, including:
"What Kind of Importance Do We Want?"
"Women: Energetic and Weary"
"How Should A Woman See Her Past?"
Recently she's had a great interest in art and has been painting. She studies drawing in the class The Art of Drawing: Surface and Depth, taught first by printmaker Chaim Koppelman, and now by Marcia Rackow. She takes the Critical Inquiry class taught by painter Dorothy Koppelman. Both classes are taught at the Aesthetic Realism Foundation. Her pastels have been shown at the Salmagundi Art Club, the Terrain Gallery, and the Atlantic Gallery.