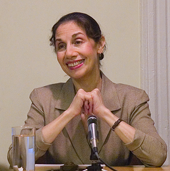 ELLEN REISS is Aesthetic Realism Chair of Education, appointed by Eli Siegel. She teaches the professional classes for Aesthetic Realism Consultants and Associates.
A poet and critic, she also teaches the course "The Aesthetic Realism Explanation of Poetry" at the Foundation. Prior to becoming Chairman in 1977, she taught in the English departments of Hunter College and Queens College of the City University of New York.
She is Editor of the periodical The Right of Aesthetic Realism to Be Known, and her commentaries there, on world events, literature, history, and the human self, have been educating people worldwide. She is considered by many people the foremost educator in the world today.
Here are links to several issues of The Right Of, each with an editorial commentary on a different subject. There are many more:
…A book about punctuation has been high on the bestseller lists, in both America and Britain. The book is Eats, Shoots & Leaves: The Zero Tolerance Approach to Punctuation, by Lynne Truss, and its popularity was a huge surprise, including to its author….>> More
Aesthetic Realism explains that love for country is a matter of ethics and aesthetics …. I am going to comment on a statement which has been felt to stand for American patriotism: the Pledge of Allegiance, recited in the classrooms of the land and at other gatherings of Americans….>> More
The big thing people have not known about racial prejudice is that it does not begin with race. It begins with the world itself, and how one sees the world…." >> More
Hilda Doolittle, from 1920 on, was intensely troubled and suffered nervous breakdowns. In the 1930s her analyst was Sigmund Freud, and the 1982 biography H.D.: The Life and Work of an American Poet, by Janice Robinson (Houghton Mifflin), is written from the Freudian point of view….>> More
Eli Siegel is the critic who showed that romanticism did not stop by the second half of the 19th century, as is generally thought — and it has never stopped….>> More
In recent years, difficulty with attention has been talked of mainly as a clinical matter. Many children are said to have "attention deficit disorder"; and they have been given, abundantly, the drug Ritalin as the supposed mighty pharmaceutical bringer of attentiveness. Ritalin is now being questioned….>> More
Aesthetic Realism is that which shows that a union, a true union, is aesthetic: like a concerto, a novel, a painting, it is a oneness of opposites. And its aesthetics is its power….>> More
In 1953 Eli Siegel brought together, under the title "The Persistence of Fabric," eight of his poems, all on the tremendous and deep subject of fabric and emotion, clothing and human feeling. We are honored to publish them here. He wrote six of these poems that year, the other two in 1926. They are beautiful. They have the factual immediacy of cloth one can touch—and also the mystery that can be in the feelings of people: the emotions that whirl within us, or rustle in us, even as we put on a well-fitting garment….>> More
I comment on two poems of Robert Burns that are a means of asking, How should jobs and work be in this land? "Man Was Made to Mourn" has the famous great and aching statement "Man's inhumanity to man / Makes countless thousands mourn!"….>> More