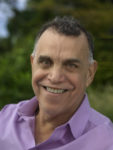 BRUCE BLAUSTEIN graduated with a BA in teaching from the State University of New York at New Paltz and received a master's degree in Rehabilitation Counseling from New York University.
He became a Certified Rehabilitation Counselor and worked at Long Island Jewish Hillside Medical Center as a counselor in one of their outreach programs. He became disillusioned with the field as he saw increasingly it did not have the explanation of mind he was hoping to find. He was thrilled and satisfied to find it in the Aesthetic Realism of Eli Siegel!
Today, he is sales manager of a well-known prom and special occasion company on Seventh Avenue and is one of the founders of The New York Group, an organization of New York manufacturers representing their collections in Atlanta.
He lives in New York City with his wife Lauren, a sixth grade teacher at PS 184, and their son, Michael. He has presented papers at the Aesthetic Realism Foundation on many subjects, including fashion.
He has a heavy travel schedule, representing the fashion line throughout the U.S. and Europe, and enjoys having his wife and son join him whenever possible.
As an Aesthetic Realism consultant he has presented public seminars on such subjects as:
"What Makes a Man Truly Strong?"
"What Do Children Really Want from Their Parents?"
"When Is a Man's Dissatisfaction Right?"
His writing on the family and on the economy has appeared in major newspapers including the Boston Globe, the Philadelphia Inquirer and the Atlanta Constitution.