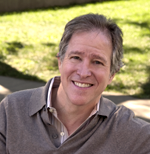 BENNETT COOPERMAN, consultant and actor, graduated from Syracuse University with a degree in theater. Along with his work at the Foundation, for many years, he was an internal communications professional working for multi-national companies.
An Aesthetic Realism consultant, Mr. Cooperman and his colleagues have given consultations to people of all ages. He takes part in public seminars at the Aesthetic Realism Foundation on the everyday and urgent questions of men, such as: "Real Self-Expression: How Can a Man Have It?;" "Can We Be Proud of How We're Decisive and Indecisive—Including about Love?;" "Flattery or Criticism: Which Do Men Truly Want?;" "What's Missing When Husbands Talk to Wives?;" and "What Makes a Man's Life Large or Small?"
Mr. Cooperman is part of the esteemed Aesthetic Realism Theatre Company which presents—in a new theatrical format that mingles commentary with performance—lectures given by Eli Siegel on world drama. Included in the company's repertoire are Shakespeare's Hamlet, Othello, and A Midsummer Night's Dream; Molière's School for Wives, Sheridan's School for Scandal, Ibsen's A Doll's House, and George Kelly's The Flattering Word.
The Aesthetic Realism Theatre Company also has thrilling musical presentations that Mr. Cooperman takes part in, such as "Rock 'n' Roll, the Opposites, & Our Greatest Hopes—a Celebration!" and "Ethics Is a Force!—Songs about Labor," which has been performed in Las Vegas, New Orleans, New York City, and more.
As part of his theatrical training, Mr. Cooperman attended the Interlochen Center for the Arts in Michigan. He was a featured player on the daytime television series "The Edge of Night." Other theatrical credits include a season at the Berkshire Theatre Festival in Stockbridge, MA, and performances at Syracuse Stage.
Mr. Cooperman is a director of the Saturday evening presentations at the Aesthetic Realism Foundation.
He and his wife, Meryl Nietsch-Cooperman, live in New York City. You can visit their website.