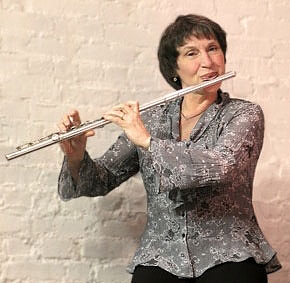 BARBARA ALLEN graduated from the University of Illinois, Champaign-Urbana. She taught English and Social Studies in the Chicago public schools, and later taught English at Roosevelt Junior High School in West Orange, New Jersey.
Ms. Allen began her study of Aesthetic Realism with its founder Eli Siegel in 1970. She is an Aesthetic Realism Consultant, and with her colleagues conducts the monthly class "Understanding Marriage!".  She's music director of the Aesthetic Realism Theatre Company and performs with the company as flutist and flute soloist.
You can visit her important new interview here: The Art of the Flute: An Aesthetic Realism Interview. Her website is: Barbara Allen: Aesthetic Realism Consultant, Flutist.
Ms. Allen teaches the "Aesthetic Realism Teaching Method Workshop" for teachers; the "Learning to Like the World" classes for children (ages 5-12); and "The Opposites in Music" class. She and her colleague Robert Murphy have taught in after-school programs throughout New York City, including Harlem and the South Bronx.
Born in Muskogee, Oklahoma, she spent most of her growing up years in Elmhurst, Illinois, west of Chicago. She moved to New York City after a year in Europe. She is married to anthropologist Arnold Perey.
Ms. Allen has presented many seminars on marriage, including, "Can Marriage Succeed in a Failed Economy?"; "How Well Do Husbands and Wives Listen to Each Other?"; "Possessiveness in Marriage—Is It Love or Something Else?"; "What Are Wives Really Desperate For?" and more.
As a flutist, with her colleague Dr. Edward Green, composer and pianist, she has presented discussions and performances of important works from flute literature—for example:
"What We Can Learn about Love from Johann Sebastian Bach's Sonata in E-Flat"
"Dignity and Abandon in Handel's Flute Sonata in G Major"
"Mozart's Flute Concerto in G Shows the Victory of Self-Questioning".
And the video of The Art of the Flute: An Aesthetic Realism Interview–Dr. Edward Green's interview of Ms. Allen–is available on YouTube: