The Art of Singing: Technique and Feeling
Taught by Carrie Wilson
This class is temporarily postponed, due to Covid-19.
This class studies singing as a making one of opposites—ease and intensity, high and low, continuity and discontinuity, freedom and accuracy—opposites that everyone, including the singer, is trying to put together in himself or herself. With that basis there are vocal exercises dealing with the fundamentals of singing—such as breath support, resonance, legato, and agility—and individual work on songs. The aim is a oneness of the finest technique and the fullest sincerity. Beginning, intermediate, and advanced singers are welcome. 
Alternate Fridays, 6:00 – 7:30 PM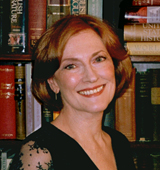 CARRIE WILSON is a Consultant, singer, and actress, as well as a Coordinator of the Terrain Gallery. She performs regularly with the Aesthetic Realism Theatre Company and has also appeared off-Broadway, in concert, and academic conferences in America and abroad. A graduate of Barnard College and the Neighborhood Playhouse School of the Theatre, she is a member of the National Association of Teachers of Singing.  As a singer, she has performed in Europe and South America, including in conjunction with talks presented by her husband, composer Edward Green.
See Ms. Wilson's faculty biography, and her review of Edward Green's talk, "Aesthetic Realism Explains the Beauty of Jazz and of Duke Ellington."