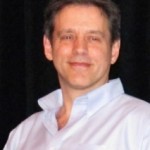 Steven Weiner, Computer Specialist and Aesthetic Realism associate, writes:
Do we have notions of "self-expression" that are hurtful to us and to others? What would it mean for us to be really expressed? And how do we ourselves interfere with our self-expression? These questions are answered culturally and truly in "Always—Our Mind & the World," the current, enormously important issue of The Right of Aesthetic Realism to Be Known.
The commentary by Ellen Reiss begins:
Dear Unknown Friends:
The wonderful 1964 lecture we are serializing—Intelligence Is You and More, by Eli Siegel—is definitive on its tremendous subject. And we see that intelligence is described by this central principle of Aesthetic Realism: "All beauty is a making one of opposites, and the making one of opposites is what we are going after in ourselves."
Published here too is part of a paper by singer Kevin Fennell, a critic and scholar of rock 'n' roll. It is from a seminar of last month titled "The Real Me; or, What Is True Self-Expression?" People long to be expressed, yet don't know what being expressed means, and don't know what holds them back. And, as Mr. Fennell describes: people don't know there is a kind of "expression" we go for that interferes with our having authentic expression and cripples our ability to be truly ourselves.
This, Too, Tells of Humanity

I'll comment here on a recent occurrence that involved self-expression of a horrible and shocking kind. I'm doing so because that event, in all its horror, is a means of understanding some quite ordinary notions people have of what it means to express themselves. A June 6th New York Times article about it reports that a 12-year old girl in an upper middle class Milwaukee suburb nearly died from "19 stab wounds…inflicted by two friends who had lured her into a park to kill her." The Times calls this attack "unfathomable." But it is not: it can be explained, through Aesthetic Realism.  Read more