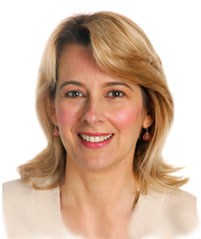 Meryl Nietsch-Cooperman, Aesthetic Realism consultant, writes:
Growing up on Long Island, NY, I knew I could have a big effect through my appearance, including my bright smile and blond hair. Later, in college in Montana, though I studied art and music, I felt more powerful affecting people through my looks than through how I used my mind. But then I got angry if someone didn't take me seriously.
Eli Siegel's essay "The Everlasting Dilemma of a Girl," which I love, has the comprehension women throughout time have longed for, from Cleopatra to a law professor to a teenager right now in Philadelphia. It answers one of a woman's biggest questions: "Is the praise I get for the way I look in keeping with who I am inside?" The essay is published in issue 1866 of The Right of Aesthetic Realism to Be Known, "Woman, Body & Mind," which includes a commentary by editor Ellen Reiss about how a woman can learn to see the relation of mind and body in a way that makes her feel unified and proud. This beautiful, needed education takes place in Aesthetic Realism consultations, which I'm grateful I had and which benefited my own life enormously.
The commentary by Ms. Reiss begins:
It is an honor to publish here one of the great essays of the English-speaking world. It is "The Everlasting Dilemma of a Girl," by Eli Siegel; and I surmise it was written in the late 1950s. While related to other notable essays—those, for instance, of Hazlitt and Lamb—in having prose that is powerful and graceful, charming and deep, "The Everlasting Dilemma of a Girl" has done something different and more. Through it, women have felt, "This explains me! Someone understands what I feel. Something I couldn't give words to but have been so distressed by, is described—and in a way that gives me hope!"

Without "giving away" what is in this work, I can say it is about the philosophic opposites of appearance and reality—as experienced by women every day. It is about the huge opposites of body and mind. And it is certainly a kind, rich illustration, in terms of a woman's hopes, of this Aesthetic Realism principle: "All beauty is a making one of opposites, and the making one of opposites is what we are going after in ourselves." Read more