THE ART OF DRAWING: SURFACE & DEPTH
Taught by Marcia Rackow
Each semester accents either drawing, pastel, or watercolor. In this class, based on the Siegel Theory of Opposites, a student's mind and hand, seeing and imagination, logic and emotion are encouraged to work together. Some subjects are: Intimacy and Grandeur in Still Life; How Much Can Small Objects Mean to Us?; There Is Space In, Around, and Between Things.
Registration for the Spring-Summer 2019 semester of classes: Monday, Apr 29 - Friday, May 10
WINTER 2019
SIGHT AS "A ONENESS OF WITHIN AND WITHOUT "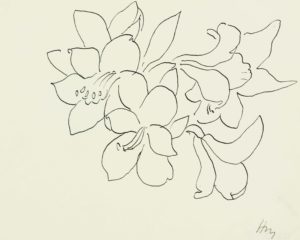 Henri Matisse – Fleurs et feuilles
This semester we will continue to look at the fundamentals of drawing with this great principle of Aesthetic Realism as our basis: "All beauty is a making one of opposites, and the making one of opposites is what we are going after in ourselves."
Central opposites we'll be studying are Within and Without as described by Eli Siegel in these groundbreaking sentences from The Aesthetic Nature of the World about the aesthetics of sight:
"The eye from the beginning is an aesthetically concerned instrument, organ, function. We cannot look at anything without making some oneness of edge and withinness; and this is an aesthetic action. What can be in the withinness, and how the edge or outline can be—that is a large, continuing matter."
To understand the "oneness of edge and withinness" we will be experimenting with various drawing techniques, including contour and gesture drawing, as explained by Kimon Nickolaides in The Natural Way to Draw.
MATERIALS: 3 B & 4 B pencils, a sandpaper block (for sharpening pencils), newsprint pad, minimum size 12" x 18", larger if possible.
DATES: Jan. 12, 26, Feb. 9, 23, March 23, Apr. 6
PLEASE NOTE: The date of the make-up class will be Saturday, April 20, at 10 AM
See announcement for Winter semester
Alternate Saturdays, 10:00 AM – 12:00 PM
Beginning date of this class: Sat ,Sept 15
Fee: $60 per semester (7 classes)
Audit: $12
[
back to classes
]