THE ART OF DRAWING: SURFACE & DEPTH
Taught by Marcia Rackow
Each semester accents either drawing, pastel, or watercolor. In this class, based on the Siegel Theory of Opposites, a student's mind and hand, seeing and imagination, logic and emotion are encouraged to work together. Some subjects are: Intimacy and Grandeur in Still Life; How Much Can Small Objects Mean to Us?; There Is Space In, Around, and Between Things.
Coronavirus—Update, March 15, 2020
The Aesthetic Realism Foundation has cancelled the classes scheduled for the rest of March and the month of April.
Winter 2020
THINGS—WHAT ARE THEIR POSSIBILITIES?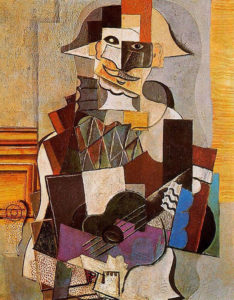 Picasso – Harlequin
This semester we'll be looking at things—objects, people, situations, ideas—to discover their visual possibilities. How many ways can a thing be seen? In his great lecture A Thing Has This, Eli Siegel explains:
As soon as an artist looks at anything or thinks of anything, the artist wants to see what is within that thing as possibilities and then looks for an arrangement of those possibilities. This is the way a portrait is made. This is the way a cubist picture was made. There were things seen, as with Picasso, in a lute or guitar, or it could be in a clock, in a wall, a door, a doorknob. Within that thing, possibilities were seen. The possibilities of a thing are the ways it can be seen….A thing is everything it has; a thing is every way it can be seen; and a thing is every way it can be related. This does include art lavishly, fully seen.
To see a thing truly is to see its aesthetic structure: "The world, art, and self explain each other: each is the aesthetic oneness of opposites." We'll be studying this landmark Aesthetic Realism principle as we continue experimenting with various drawing techniques as described by Kimon Nickolaides in The Natural Way to Draw.
MATERIALS: Large mixed-media pad, 3 inexpensive tubes of watercolor paint—yellow ochre, burnt sienna, black; #10 inexpensive watercolor brush, water containers, paper towels, pencils.
DATES: Jan.11, 25, Feb.8 is cancelled—to be rescheduled, Feb. 22, Mar.7, 21, Apr. 4
Alternate Saturdays, 10:00 AM – 12:00 PM
Beginning date of this class: Sat ,Sept 15
Fee: $60 per semester (7 classes)
Audit: $12
[
back to classes
]