THE ART OF DRAWING: SURFACE & DEPTH
Taught by Marcia Rackow
Each semester accents either drawing, pastel, or watercolor. In this class, based on the Siegel Theory of Opposites, a student's mind and hand, seeing and imagination, logic and emotion are encouraged to work together. Some subjects are: Intimacy and Grandeur in Still Life; How Much Can Small Objects Mean to Us?; There Is Space In, Around, and Between Things.
The Spring-Summer semester of classes is now in session. For information about auditing classes, call the Registrar at 212.777.4490.
NATURE—"A TREMENDOUS STUDY IN UNITY & VARIETY"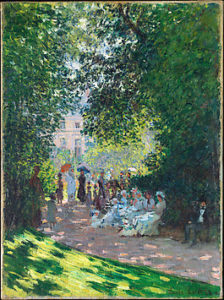 Claude Monet – Le Parc Monceau, 1878
First class – Saturday, May 12, 2018*
This summer as we work outdoors in Washington Square Park and the North Cove Marina amidst the trees and flowers, dogs and squirrels, boats, water, sky and buildings, we'll be studying passages from Eli Siegel's great lecture "Aesthetic Realism and Nature," in which he explains what nature is in a dazzlingly new and true way:
The purpose [is to see] nature as a tremendous study in unity and variety, in their fullest meaning. All art is that too. And if we use nature that way, we can come to understand the difficulties, puzzlements, excruciations, unbearabilities that people undergo. Otherwise, we are using nature not to understand, but as a sort of second, soothing, unwise mother. That is not the way nature wants to be.
As we work in watercolor or pastel, we'll have the wonderful problem of making a composition of all that nature takes in. "All beauty," Eli Siegel stated, "is a making one of opposites, and the making one of opposites is what we are going after in ourselves."
Materials: Watercolor, gouache, or pastel. Pads should be at least 9 x 12 inches. Pencils, erasers, and brushes.
DATES: May 12, (May 26: no class, due to Memorial Day holiday), June 9, 23, July 7, 21, August 4, 18
* The class of May 12 will meet at 10:30 am at the Metropolitan Museum of Art. We will study work in the exhibition "The Poetry of Nature: Edo Paintings from the Fishbein-Bender Collection."
Alternate Saturdays, 10:00 AM – 12:00 PM
Beginning date of this class: Sat ,May 12
Fee: $60 per semester (7 classes)
Audit: $12
[
back to classes
]