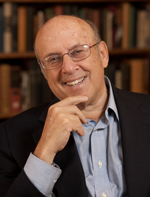 Jeffrey Carduner, Aesthetic Realism consultant, writes:
Are we longing to see the world and people in a better way, more deeply and justly? What can a good novel show us about how to see reality and our fellow humans, and about the biggest fight in ourselves? You will love "The Novel—What It Tells Us," the exciting new issue of The Right of Aesthetic Realism to Be Known.
The commentary by Ellen Reiss begins:
Dear Unknown Friends:
Here is the conclusion of It Still Moves; or, The Novel. In this great 1951 lecture, Eli Siegel has been explaining not only what a novel is, but that which other critics—also novelists, also readers—have not known: what makes some novels beautiful; and how, in the technique of a good novel, are the answers to the questions of our own lives. At the basis of this talk is the principle "All beauty is a making one of opposites, and the making one of opposites is what we are going after in ourselves."
In the midst of this final section, Mr. Siegel says, "I mention for a while some novels of note." And then he does something that is for me literally breathtaking. He comments on novels of many centuries, and because this is at the end of a single lecture, he has to be exceedingly brief about each; yet what happens stands for who Eli Siegel was, as critic, as scholar, and as a person. He gets to and has us feel what is central to each of the authors mentioned, and he also relates the various novels to each other—all in such a few words, and his sentences are beautiful.
Eli Siegel's spoken prose always had what I have called spontaneous beauty. In his lectures he did not speak from an outline or notes; he did not plan his sentences. Because he loved knowledge so much, and went after it, and treasured it, it was alive and organized within him—ready to come forth in vivid, fresh, new, graceful, eloquent, living fairness to the immediate subject. Here, that subject was specific books and their relation to people and the world.
George Eliot Too
Mr. Siegel says that in this talk he is "not mentioning all" the "novels of note." Some that he saw as ever so meaningful are not referred to in it. So I'll point to just a few of the novels on which he lectured definitively and thrillingly but does not mention in the present talk: Charlotte Brontë's Jane Eyre, Mark Twain's Huckleberry Finn, Ivan Turgenev's Fathers and Sons, Anatole France's The Red Lily, Nathaniel Hawthorne's Blithedale Romance, Ernest Hemingway's A Farewell to Arms.
And there was the lecture he gave in 1971 on the author whose real name was Mary Ann Evans: The Novel Speaks of Poetry; or, George Eliot. I'll quote a little from my notes of that talk, because what Mr. Siegel described her as writing about is the most urgent matter for our personal lives and for our nation: the need for every human being to be seen with respect, not contempt. That is: be seen as fully real, be understood—not managed, flattered, exploited, looked down on.
"The goodness of a novel," he said, "depends on how the novelist sees people." He spoke about the power of George Eliot's mind, and read this passage from her first novel, Scenes of Clerical Life:
Depend upon it, you would gain unspeakably if you would learn with me to see some of the poetry and the pathos, the tragedy and the comedy, lying in the experience of a human soul that looks out through dull grey eyes, and that speaks in a voice of quite ordinary tones.
He said George Eliot "agrees with Aesthetic Realism that the question in you is as illimitable as the galaxies. A constant thing in her novels is the showing of persons' lack of true interest in each other."
He spoke about Middlemarch, and said, "Dorothea Brooke represents woman or man, seeking, disappointed, and trying to understand." And the following statements of his bring together a great novel and something central in our lives:
The beginning of pain is to assume you understand a person justly, when maybe you don't. Why do people give each other pain?—that is the subject of Middlemarch. George Eliot did a great deal to make understanding look as important as it is. She helped in an unfinished cause.
A Poem: "Also"
In our serialization, I have been accompanying Mr. Siegel's lecture with poems of his about the novel. One is reprinted here, from his Hot Afternoons Have Been in Montana: Poems. (It had previously appeared in the journal Accent.) …Read more