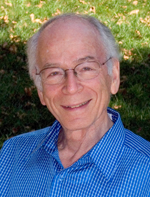 John Stern, Aesthetic Realism consultant, created the popular website beautyofnyc.org with his wife, Faith Stern. He writes:
The subject of stuttering continues to trouble people. What is its cause? Eli Siegel, philosopher and critic, understood the human mind and the central fight in everyone—which in some people may take the form of stuttering. The definitive understanding of this subject is presented in "Stuttering & the Human Self," issue #1751 of The Right of Aesthetic Realism to Be Known. The commentary by editor Ellen Reiss begins:
We're honored to publish one of the early talks Eli Siegel gave at Steinway Hall: The Philosophy of Stuttering. In publishing those lectures, we're using notes taken at the time, and those for the talk on stuttering, December 26, 1946, are quite incomplete. Nevertheless, we meet the explanation—clear, logical, kind, exact—of a matter that torments people now. And it would not do so, were Aesthetic Realism's understanding of the subject widely known.
The lecture can be seen as a companion to Mr. Siegel's rich, stylistically beautiful discussion of stuttering in his Self and World. There he shows that this difficulty in expression is a phase of the fight all people have: the fight between respect for the world and contempt for it. "Stuttering is a collision," he writes, of the desire "to be other, to be related," and the desire "to be a snug, perfect point, capable of dismissing anything and everything" (pp. 324, 331).
To accompany the 1946 lecture, we reprint parts of an important article by Aesthetic Realism consultant Miriam Mondlin. It appeared in this journal in 1994, with the title "How My Stuttering Ended." >>Read more