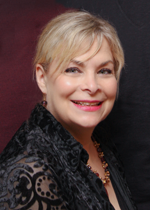 Lauren Phillips, NYC middle school teacher, writes:
Everyone is looking for love. Yet, as I know personally, there is much confusion and tumult on the subject. As two people look into each other's eyes, they need to know what makes love grow and thrive—or fail. What Eli Siegel writes in "Love and Reality" has the understanding of love—practical, philosophic, and utterly romantic—that men and women are hoping for. I'm so glad to say that this education about love has made possible my own happy marriage of many years. The chapter begins:
The self by its very nature is compelled to love reality. The self has to aim after happiness and there is no happiness except by the successful love of reality. Were the self really to get what it wants, its various phases or possibilities would be working as one; and what it was after as a whole would be working as one with all other things. The self, in other words, must find some means of saying that something other than it, is for it, is approving of it.
I am quite aware that if Jim Haskins were told he was trying to love reality as a whole in caring for Miss Edith Ritchie, he might say "Balderdash"; "Nothing of the kind"; "Quit your kidding." And for that matter if the more learned professor of chemistry, Andrew Harding, were told he was in pursuit of reality as a whole in courting the daughter of his teacher, Professor Simons, he, too, might say, "None of these soaring, needlessly philosophic outlooks." Still, sometimes the only way to be completely factual is to be philosophic. There was a time when Jim Haskins had not heard of Edith Ritchie. He now thinks (and in fact has told Edith) that if she loves him, "The world is mine." Sometimes Jim is swept by a feeling which goes beyond his toes and his ears, and which he regards as the grandest thing in the world. He does not see this feeling as close to the material in his philosophy course at college, but it is. For Edith Ritchie, as she may deserve to be, has been taken by him as a symbol of the whole world and when his self meets through her body the self of Edith Ritchie, something of that world which she symbolizes comes to him; not lucidly perhaps, not cognitively, not in the form of a spiritual blueprint; but still, however accompanied by fuzziness, that something represents the world. Love is a tremendous instance of that insistent possibility of symbolism of which I have spoken. Indeed, sex is basically philosophic.
Why, if Edith should be aloof or deny herself to him, may Jim be swept by a desolation that seemingly is limitless? Why should no other body have the meaning for Jim that the body of Edith Ritchie may have? Why has a biological entity taken on the vastness of import, the inescapable undulations of meaning which the biological entity called Edith Ritchie has taken for another entity called Jim Haskins?…  >>Read more