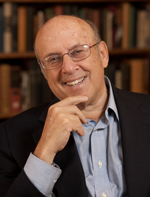 Jeffrey Carduner, Aesthetic Realism consultant, writes:
What is the big conflict in every person? How our lives will go and whether we like ourselves depend on our understanding this conflict. It's told of mightily in the new, landmark issue—"Knowledge & Narrowness"—of The Right of Aesthetic Realism to Be Known.
The commentary by editor Ellen Reiss begins:
Dear Unknown Friends:
Here is the conclusion of the magnificent 1965 lecture by Eli Siegel that we have been serializing. In Philosophy Consists of Instincts, he shows that the big battle going on in every person is also the central battle in philosophy.
Philosophy can seem theoretical, not-urgent, hard to understand—far away from the confusions of a beset individual. Yet, Mr. Siegel explains, there is a fight in us between the desire to see, to know, and the desire to use things, situations, people to make ourselves comfortable and important. And this most immediate of fights corresponds to matters in philosophy—however esoteric they may seem.
This lecture has in it the great and new seeing which is the basis of Aesthetic Realism: that the questions of self, of our tumultuous selves, are not just personal—we have to do, always, with the whole world.
The fight between knowing and going principally for comfort is a form of the elemental fight Aesthetic Realism has identified in all people: between respect for the world and contempt for it….  >> Read more