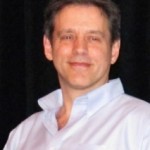 Steven Weiner, Computer Specialist and Aesthetic Realism associate, writes:
What does it mean to be ourselves—and express ourselves? What makes us feel false to ourselves? And can our logic and our emotion go together, help each other? The very needed answers to these questions are in "Intelligence, Feeling, & Our True Self," the current issue of The Right of Aesthetic Realism to Be Known.
The commentary by Ellen Reiss begins:
Dear Unknown Friends:
Here is the final section of the great 1964 lecture Intelligence Is You and More, by Eli Siegel. And with it is part of a paper by Aesthetic Realism associate Barbara Buehler, from a recent public seminar titled "The Real Me; or, What Is True Self-Expression?" Our expression is an aspect of intelligence. And as Ms. Buehler writes about herself of once, she describes a grief had right now by ever so many other obviously intelligent people: the aching sense that, for all their keenness and perhaps abundant education, they're not really expressing themselves; they're not being their true selves, and don't know what this true self is.
Aesthetic Realism is the knowledge that identifies at last the huge opponent in us to both our intelligence and authentic self-expression. That opponent, that obstructer of one's real self, is something which a person feels is oh-so smart and relies on, but which weakens oneself day after day. It's contempt: the getting an "addition to self through the lessening of something else."
At the basis of the lecture we have been serializing is this Aesthetic Realism principle: "All beauty is a making one of opposites, and the making one of opposites is what we are going after in ourselves." A pair of opposites central to intelligence is very much part of the present TRO: logic and feeling. There has been a tendency to see intelligence as something apart from feeling. There's even been a sense that to be intelligent about something you have to put aside emotion. However, the rift between these opposites has brought everyday quiet misery and also agony to people's lives. Read more