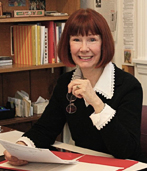 MARGOT CARPENTER, originally of Miami, is a poet and Executive Director of the Aesthetic Realism Foundation. She teaches in consultations and seminars with the trio The Three Persons.
With consultant Karen Van Outryve, she conducts "Poetry and Liking the World," classes for young persons between the ages of 6 and 12, as part of the Foundation's outreach programs.
Published on love and women's issues, she is also an authority on dance and was a soloist with the Miami Ballet.