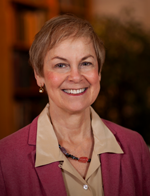 Devorah Tarrow, Aesthetic Realism consultant and sociologist, says:
How can we really like ourselves, feel confident and proud? This is what Nancy Huntting was beginning to learn in her first Aesthetic Realism consultation. Consultations are the magnificent education in which women and men learn what it means to like the world and themselves on an honest basis. As a teacher of Aesthetic Realism, I've had the great pleasure and honor of seeing women feel deeply understood for the first time. When you read Ms. Huntting's consultation, with its careful and ever so thoughtful questions, you'll be learning about yourself, too. Introducing the consultation, Ms. Huntting writes:
I am very proud to have this, my first Aesthetic Realism consultation, published on the web so that others can see the kind, scientific, truly beautiful education that took place in it!
As a young woman of 27, I began, really, to understand myself through Aesthetic Realism consultations—and to be able to see other men and women much more deeply and accurately, including my parents.
I had a degree in English literature, had been an editorial assistant at Newsweek magazine, then an antique store owner, and was very pained about love. Through consultations, instead of being consumed by doubts about whether a man loved me enough and would continue to, I began to learn what love really was. I was freed to use my mind to see meaning and value in the world as I never had before—including in men.
Also, after years of scorn and fighting with my mother, we had new respect and kindness—could listen to each other, and begin to know each other. This means a very great deal to me. These central changes in my life began in this consultation. <<Read more