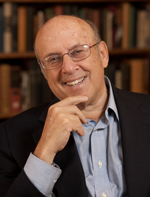 Jeffrey Carduner, Aesthetic Realism consultant, writes:
Our lives are made up of knowing and feeling—how well do we do with the relation of these? Does our happiness depend on whether we want to know our own and others' feelings? And—are feelings knowable? Can there be true scientific method in knowing feelings?
Read "We Feel & Know—What's the Relation?," the new issue of The Right of Aesthetic Realism to Be Known.
The commentary by Ellen Reiss begins:
Dear Unknown Friends:
With this issue we begin to serialize The Scientific Method in Feeling, a 1973 lecture by Eli Siegel. It is a thrilling work about something very ordinary, something people take for granted—but which makes for daily misery and also for cruelty, sometimes on a world scale. The lecture is about the fact that people have made a division between knowing and feeling, and they do not see their own feelings as things to be exact about, to know.
Scientists have made this division too. They haven't seen feelings as knowable—the way the structure of an atom is knowable, or the makeup of an apple is. Here, there has been immense conceit: the fact that oneself with one's degrees is unequipped to know something, does not make the thing unknowable; yet that's the unstated basis various persons have gone on in the matter of how much feelings can be known.
What Scientific Means
Since this lecture is about science in its true sense, I am going to quote from Eli Siegel's comment to his definition of science in Definitions, and Comment: Being a Description of the World. I love these sentences. They are amazing, exact, beautiful, and make for large feeling:
A person…is scientific: 1, when he goes after truth; 2, when he knows he's going after it; 3, when the opportunity to go after something else is not taken advantage of.
Science, as I have implied, is knowledge aware of itself, or a going after knowledge aware of itself….Whenever we know that we want to know, we are that much scientific….Science as such has nothing to do with laboratories, graphs, footnotes, impressive terminology, and so on…. Read more