James and the Children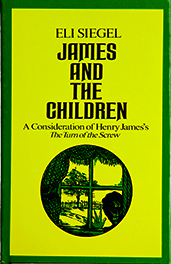 JAMES AND THE CHILDREN
A Consideration of Henry James's The Turn of the Screw
by Eli Siegel
Edited by Martha Baird
Hugh Kenner wrote in Poetry magazine:
"It is a reading so careful and candid it reduces most previous discussion to wilful evasiveness. The oddness of a literary critic constantly asking us to think about real children can suggest how odd is the criticism we're accustomed to."
Critic Robert B. Heilman wrote:
"It is an immense relief to find someone as good as Siegel is, refusing the fashionable explanation of the story, and looking at what it actually says. I like the way in which he constantly points out how the governess goofs or the tone goes awry, something which in my own treatment I failed to do."
Noah Gordon, publisher of the journal Psychiatric Opinion, wrote:
"I believe it will be of particular interest to child psychiatrists. It enabled me to reread The Turn of the Screw with new shocks of recognition.…Siegel is a critic who assesses style with a poet's ear and characterization with a philosopher's eye."
Noah Gordon was also publisher of the Journal of Human Stress, science editor of the Boston Herald, and a noted novelist.
Read Chapter 1, "Careful Hovering"
Cloth $14.00
Paper $12.00
ISBN 0-910492-08-5 (cloth)
ISBN 0-910492-22-0 (paper)