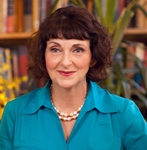 Pauline Meglino, Aesthetic Realism consultant, writes:
Distressing many wives is the feeling that there's a painful and growing distance between herself and her husband. She can feel, angrily, that she's taken for granted, that her husband has summed her up. But do wives do any summing up of their own? For example, a wife can think, "Nothing he does or says surprises me," or "I know him like a book!" Yet she doesn't realize that there's something really wrong with thinking she is an authority on the man she has married—and that her lack of desire to understand him is a fundamental cause of that terrible feeling of separation and coldness.
What can enable couples to see each other deeply, freshly, with real, vivid kindness? The answer will be given at the Understanding Marriage! class on Saturday, April 9th, from 11:00 AM to 12:30 PM: "Understanding a Husband vs. Summing Him Up: The Enormous, Beautiful & Urgent Difference."
What women will be learning is based on the following definitive statement by Eli Siegel, founder of Aesthetic Realism: "The purpose of marriage is to like the world. The reason happiness in marriage is such a rare item is that people have tried to love in a way that would mean less of a like for the world—in fact, a contempt for it." And the class, conducted by consultants Barbara Allen, Anne Fielding, and myself, Pauline Meglino, will take up these surprising, comprehending sentences by Mr. Siegel from his 1950 lecture Aesthetic Realism and People:
There can be no such thing as love without knowledge. Where there isn't knowledge, you are really loving somebody else—somebody you made up….
     We are a relation: there is nothing we don't have to do with. Whenever we see a person we should try to apprehend that relation….When we understand a person we see that person as having all kinds of unexplainable relations, and explainable, too; and yet as a point, something definite.
Women haven't known that such ordinary things as assuming you already know what your husband is thinking, finishing his sentences, answering for him, all arise from contempt—the thing that takes the life out of a marriage. Women will have a deep, thrilling time learning about this, and learning what will make possible new, exciting understanding, as the teachers ask questions such as: How many things does your husband have to do with? Do you want to see him as having a busy mind, complexity, and mystery, the way a novelist would see him? Through this class, not only will wives be seeing their husbands freshly, but they'll also have newfound hope for their marriages. Marriages will be revolutionized!