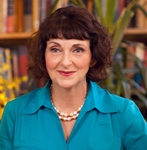 Pauline Meglino, Aesthetic Realism consultant, writes:
A bride wants the romance in her marriage to grow and never lose its thrill, but why does she often come to feel that the man she saw as exciting seems now so predictable and dull? She doesn't relate that feeling to the fact that she can finish his sentences or tell him what to do, while her husband objects, saying she acts like she owns him, "knows him like a book."
"Understanding a Husband or Owning Him: Which Is Success for a Wife?" is the topic the Understanding Marriage! class will address and bring clarity to, on Saturday, April 12th, from 11:00 AM to 12:30 PM.
This wonderfully practical, cultural event will be conducted by consultants Barbara Allen, Anne Fielding, and myself, Pauline Meglino, of the teaching trio There Are Wives. There will be discussion of the following sentences by Eli Siegel, the founder of Aesthetic Realism, from his landmark lecture The Furious Aesthetics of Marriage:
The purpose of marriage is to be in such a relation with another self that one's care for the world is encouraged, is increased, and is believed in more. This is possible. But since there is a desire to have another self as an adjunct of oneself, we find a self trying to annex another self. We find that a self takes over another self and then, also, is robbed of its largest hope—which is to like the world which somehow became ourselves or made us.
What a new, true, and kind comprehension of marriage women will receive in this class! They'll learn that marriage is not meant to be—as magazines tell women these days marriage should be—a shelter against the world, where a husband's main purpose is to adore one. Marriage is for a bigger, more beautiful purpose: as Eli Siegel said, "to like the world which somehow became ourselves or made us." A great part of that—and a combating of deadening ownership—is the understanding of a husband's multitudinous relations to the world. A wife might be asked, for instance: How many things and people besides you does your husband have to do with?  Do you see your husband as having an interior life that is unknown to you and meaningful? Through this education, there comes to be understanding between a wife and husband that's authentic and marriage-reviving!
The Aesthetic Realism Foundation, 141 Greene St., off W. Houston St., in SoHo, is a not-for-profit educational foundation. The fee for the class is $10. For more information, call 212.777.4490.