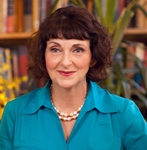 Pauline Meglino, Aesthetic Realism consultant, writes:
"You're never pleased, no matter what I do!" many a wife has heard her husband say in exasperation. And very often she herself is troubled by how she can suddenly be ill-natured, disgruntled, sarcastic with the man she vowed to love always. "To Like or to Be Displeased—The Unseen Battle in Every Wife" is the subject women will be learning about at the Understanding Marriage! class on Saturday, March 8th, from 11:00 AM to 12:30 PM.
The marriage-reviving explanation will be presented by teachers Barbara Allen, Anne Fielding, and myself, Pauline Meglino, of the consultation trio There Are Wives. The explanation is based on this definitive statement by Eli Siegel, founder of Aesthetic Realism: "The purpose of marriage is to like the world. The reason happiness in marriage is such a rare item is that two people have tried to love in a way that would mean less of a like for the world—in fact, a contempt for it."
There will be lively, deep discussion of the following sentences by Mr. Siegel, from The Right of Aesthetic Realism to Be Known, issue 859:
When a woman consents to marry, she hopes to like the man. At the same time, she feels she can like the man without the desire to like as such. There is a big desire in people not to be pleased with what is not themselves. Does one have to be grateful that reality exists, and particular things in it, in order to have a successful marriage?
Women will be learning this liberating fact: a wife can get a victory in being displeased—and not just with her husband, but with everything. That victory comes from the debilitating desire to have contempt, to feel people, including her husband, are inept, clueless, don't measure up, and therefore she is superior. What she really wants is something grander, smarter, and happiness-giving: honestly to like the world by knowing it and seeing meaning in it. And while there may be things that truly can be criticized in the world and in a husband (and in herself), when a woman has the purpose to find authentic value in the world and people, what needs criticism can be seen in a large, kind, accurate way. Everything women learn in this class will enable that purpose to grow and prevail!
The Aesthetic Realism Foundation, 141 Greene St., off W. Houston St., in SoHo, is a not-for-profit educational foundation. The fee for the class is $10. For more information, call 212.777.4490.