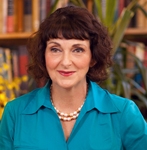 Pauline Meglino, Aesthetic Realism consultant, writes:
Although a husband and wife may travel together, worry about each other, visit the in-laws together—troubling many a wife is the feeling, "We're drifting further and further apart.  How can we be closer?" Yet, she can also want her husband not to be too close, even insist on having her "own space," and many a husband has felt his wife is unkindly remote.
"The Trouble about Closeness & Remoteness in Marriage—& the Aesthetic Answer" will bethe subject of the Understanding Marriage! class on Sat., July 12th,from11:00 AM – 12:30 PM, taught by consultants Barbara Allen, Anne Fielding, and myself, Pauline Meglino.
At this wonderfully down-to-earth, marriage-strengthening event, women will be educated about the purpose that has two people feel authentically close: "The purpose of marriage is to like the world," explained Eli Siegel, founder of Aesthetic Realism. And what makes two people feel resentful, disappointed, and painfully distant from each other is that "people have tried to love in a way that would mean less of a like for the world—in fact, a contempt for it."
The following sentences from Mr. Siegel's Preface to his moving essay "The Ordinary Doom" will be discussed:
The large inward catastrophe of today is: We let ourselves be pleased by and do what we can to please a person we still want to hide from, we still do not fully respect.  The one way we can fully respect a person is to feel that that person deserves wholly to know us and it would be good for us to know that person.
 …To know a person is to know the universe become throbbingly specific.  It is always the universe on two feet, with two eyes, and an articulate mouth.  It is the universe we want to skip.
Women will be learning, to the great benefit of their lives and marriages: there is that in a wife which can prefer to be hidden and have her inner self apart from her husband and others. This preference, which a husband can also have, is life-sapping contempt, and invariably makes two people feel distant, separate, and lonely. Each woman will also be understanding that her most fundamental desire is to like the world through a person, and that she wants to see with depth and eager interest how a person is "the universe on two feet." Through instances from culture and everyday life, the meaning of this will come alive for everyone attending. The result: there can become in one's marriage, a new feeling of love and romance!
The Aesthetic Realism Foundation, 141 Greene St., off W. Houston St., in SoHo, is a not-for-profit educational foundation. The fee for the class is $10. For more information, call 212.777.4490.