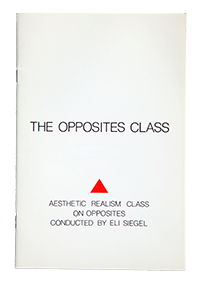 "The question, What is Beauty? is one of the most difficult in the world. It has been thought that it couldn't be answered….We ourselves think that Eli Siegel has come to a greater and more useful clearness on the subject of beauty than anyone in history—and this without any curtailment of its flight, any lessening of its mystery." —Martha Baird & Dorothy Koppelman
From the Introduction: "Eli Siegel shows that one thing is to be found in all instances of beauty—and he talks specifically about music, literature, painting, situations of everyday life, nature, poetry, the Spanish language, a kitten, a shoelace. The thing to be found in all instances of beauty is the presence of Opposites As One….
This particular class took the form it did because of a talk Chaim Koppelman had given on the radio about Aesthetic Realism and its effect on him as an artist. Chaim Koppelman's students at the School of Visual Arts, where he was Head of the Printmaking Section, had asked many questions as a result of hearing his broadcast. Mr. Siegel, hearing about the questions, was interested, and asked Mr. Koppelman to bring them to class.
The answer to the very first question, "What is a definition of aesthetics?" is the basis of everything that follows….The second question, "What is an aesthetic situation in life?" would not have been asked at all—no one would have thought of it—were it not for Aesthetic Realism and the placing together of those two ideas and those two words, Aesthetic and Realism…."