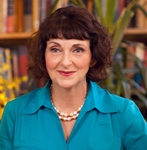 Pauline Meglino, Aesthetic Realism consultant, writes:
On Saturday, September 13th, the Understanding Marriage! class will address with refreshing, long sought-after clarity a big matter most wives have worried about, not understood, and been desperate to remedy: "Romance in Marriage: Why It Fades & What the Real Thing Is!" The class takes place from 11:00 AM to 12:30 PM.
Barbara Allen, Anne Fielding, and I, of the teaching trio There Are Wives, conduct this wonderfully practical, cultural event based on the following explanation by Eli Siegel, founder of Aesthetic Realism: "The purpose of marriage is to like the world. The reason happiness in marriage is such a rare item is that people have tried to love in a way that would mean less of a like for the world—in fact, a contempt for it."
Women will be learning that what distinguishes romance that's deep, wide, and lasting from something that quickly sours and fades, has everything to do with a husband's and wife's purpose. These key sentences from the lecture Aesthetic Realism and Love, by Eli Siegel, will be discussed:
Two people marry, and they say, "We don't care for the rest of the world; we've got ourselves." They have enclosed themselves in an amorous sphere. In this, which is blissful, there is also a deep objection. A man and woman come to feel limited by it; it gets wearisome; it is not a means of expansion….The purpose of liking a person is to like other persons. Aesthetic Realism says that no one can be successfully in love until that person wants to love the world.
Romance, the class will show, has a beautiful, kind, and scientific basis! With down-to-earth examples from life and literature, each woman will be learning that an exclusive "amorous sphere" always palls because its basis is contempt. Real, passionate romance comes alive when a wife and husband use each other to know and care for other people, things, the big various world around them. This is because we love someone passionately who is for our deepest hope, which Aesthetic Realism shows, is to like the world on an honest basis—and there's simply nothing more romantic!
The Aesthetic Realism Foundation, 141 Greene St., off W. Houston St., in SoHo, is a not-for-profit educational foundation. The fee for the class is $10. For more information, call 212.777.4490.