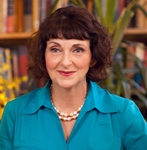 Pauline Meglino, Aesthetic Realism consultant, writes:
A big complaint in marriage has been: "You weren't listening to a word I said!" Many a wife can feel when she talks, her husband tunes her out; and many a husband has felt his wife would rather talk than hear what he has to say. While people may joke about the matter and seem to take it for granted, this trouble about listening is a deep source of pain, resentment, and shame in homes throughout the world.
"Real Listening in Marriage: What Is It & How Can We Have It?" will be the subject of the Understanding Marriage! class on May 10th. The class will take place from 11 AM to 12:30 PM, and is taught by Aesthetic Realism consultants Barbara Allen, Anne Fielding, and myself, Pauline Meglino.
Women attending this class will engage in a wonderful, informative discussion of the following surprising and very kind sentences by Eli Siegel, the founder of Aesthetic Realism, from a lecture he gave on the subject:
Right now there are quite a few homes in the New York area where someone says, "Something is amiss—I was talking and he [or she] didn't seem to be listening to me." Since listening is so much a part of life, we should ask: Do I expect anything very much from listening? People do expect a great deal listening to music, but there is another listening that people have pretty much given up on. Listening should be accompanied with comprehension. It's an artistic, deep, compassionate, and critical thing.
Learning what that "artistic, deep, compassionate, and critical" listening is, will be thrilling, and will enable fresh, honest communication to be in marriages!
The Aesthetic Realism Foundation, 141 Greene St., off W. Houston St., in SoHo, is a not-for-profit educational foundation. The fee for the class is $10. For more information, call 212.777.4490.