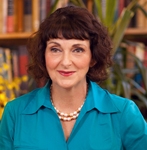 Pauline Meglino, Aesthetic Realism consultant, writes:
Every bride hopes the romance, excitement, meaning in her marriage will grow. But with time she can feel that instead, dullness, routine, and a painful gap are growing between her husband and herself. The longed-for answer to this dilemma will be given at the Understanding Marriage! class, on Saturday, February 13th, from 11:00 AM to 12:30 PM: "Meaning in Marriage: How Can It Be Fresh & Lasting?" Taught by Barbara Allen, Anne Fielding, and myself, of the teaching trio There Are Wives, the event is open to all women.
Along with learning at this down-to-earth and lively class what makes for exciting meaning and sweeping romance in marriages, women will also be understanding what really saps meaning and dulls married life! There will be discussion of the following statements from an Aesthetic Realism lesson, which was conducted by Eli Siegel, founder of Aesthetic Realism:
"When meaning runs out, boredom begins. No person was ever bored with whom meaning was present.
"Meaning is the possibility of a thing's becoming more itself by having relation with other things. We have to see a person as representing more than that person. The enclosing way will not work—the possessive way. In making a thing just for us, we take away its meaning. And that is the danger of possessiveness: it is the great destroyer of meaning.
"You like a person when you can say definitely, 'I like the whole world more because that person exists and because of how he is.' Looking for meaning is the same as liking the world."
The class will show what Aesthetic Realism makes plain: the thing that robs meaning from married life is a purpose two people can have: to make less of the outside world and other people. "Too often," Mr. Siegel explained, "marriage is a contemptuous exclusion of the world." Wives will be learning about the purpose that makes for fresh, lasting depth and meaning in marriage: to use caring for a husband to know and like the world! For instance, through cultural and everyday life instances, each wife will be seeing how the husband she may think she already knows is related to literature, economics, history, other people, and the multitudinous world. And as she does, she'll be seeing him newly!