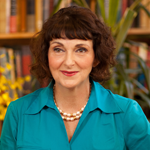 Pauline Meglino, Aesthetic Realism consultant, writes:
Wives and husbands want marriage to be full of exciting, new, deep meaning. Yet often a wife worries: "Everything has become so predictable and dull with us. We need to get out of this rut, but what the magazines advise us women to do seems silly and demeaning. How can we really rejuvenate our marriage?" At the Understanding Marriage! class on Saturday, September 7th, from 11:00 AM to 12:30 PM, women will be learning what makes possible fresh, passionate care and meaning in married life. The topic is: "How Can Boredom in Marriage End—& Fresh Meaning Begin & Grow?"
Consultants of the teaching trio There Are Wives—Barbara Allen, Anne Fielding, and I, Pauline Meglino—conduct practical, marriage-changing discussions at these events. And the September 7th class will be taking up the following sentences from the definitive lecture The Furious Aesthetics of Marriage, by Eli Siegel, founder of Aesthetic Realism:
Why does the devotion, the sweetness—really, the sincere sweetness that a person wants to have, and does have for a while—why does this change to something else?…The first thing that Aesthetic Realism has to say is this: You cannot love a person unless you want to love the world, as a large and unlimited fact, but still a fact….When meaning runs out, boredom begins. No person was ever bored with whom meaning was present. In caring for someone, in loving someone, in marrying someone, our hope is to like the world.
Women present will be educated by that explanation—and by learning the purpose that enables new-found interest and fresh, lasting meaning to grow in marriage: to use caring for a husband to know and like the world. They'll learn, too, about another purpose that two people can have, which dulls and robs meaning from married life: "Too often," Mr. Siegel explained, "marriage is a contemptuous exclusion of the world." As each woman understands contempt and how to see her husband as related to the whole world—to art, history, economics, and other people and things—she'll be seeing him with new eyes!
The Aesthetic Realism Foundation, 141 Greene St., off W. Houston St., in SoHo, is a not-for-profit educational foundation. The fee for the class is $10. For more information, call 212.777.4490.