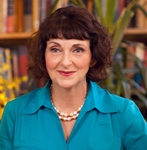 Pauline Meglino, Aesthetic Realism consultant, writes:
Trust has been seen as the cornerstone of marriage, and every wife wants to feel she and her husband will always be honest and trusting of each other. But even with these hopes a wife or husband can feel about the other—often without putting it into words: "I don't have confidence in you. There's something I'm after I feel you don't want to see. And you seem to look at me with suspicion too." There's an underlying feeling, You don't trust me, and I'm not sure I trust you. So married persons have felt bad and haven't understood the cause.
"How Can a Wife & Husband Really Trust Each Other?" is the topic the Understanding Marriage! class will address and answer clearly on Saturday, April 11th, from 11:00 AM to 12:30 PM.
At the heart of the class and the marriage-saving answer women will be learning, are these definitive principles stated by Eli Siegel, founder of Aesthetic Realism: "Marriage is a means for liking the world through a person. Too often, though, marriage is a contemptuous exclusion of the world."
Barbara Allen, Anne Fielding, and I, of the consultation trio There Are Wives, conduct this cultural, practical event, which will focus on the following important sentences from an Aesthetic Realism lesson taught by Mr. Siegel:
Everyone is looking for an answer to the question Why am I not trusted? Let's take Mrs. J: She thinks she is trusted partially by her husband; she in turn responds with partial trust of him. Both are correct. This is a question every person should ask: Will I be happy unless I feel I deserve to be trusted?…A crucial area as to trust is this: When you say you want someone to be happy, do you mean it, or are you putting on a show? The first thing in being trusted is that we be interested in the welfare of other people.
Each woman will get fresh hope as she sees that a wife and husband will trust each other when they feel about one another: "You really want me to care for and be interested in the world and people!"