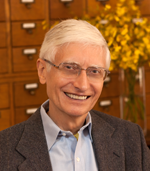 DEREK MALI, actor, was born in New York City, and educated at Buckley School and Groton School. He attended Yale University, New York University, and graduated from Denison University with a BFA degree in Theatre.
He worked in theatre as stage manager, company manager, and general manager; co-managed 40 to 50 shows, including: MacBird, America Hurrah, Your Own Thing, Bob & Ray: The Two and Only.
He is a member of Actors Equity and ATPAM (Association of Theatrical Press Agents and Managers).
He has taught Aesthetic Realism in consultations for over 30 years and presented seminars on such subjects as "What Effect on People Does a Man Most Want to Have?," "Justice and Comfort: What's the Relation?," "How Much Should a Man Care For—Besides Himself?," and  "Do We Know What's Best in Us—& What's Worst?"
He has acted in many roles with the Aesthetic Realism Theatre Company.
He is married to high school science teacher and Aesthetic Realism Associate, Sarah Ross.